Abaddon
Talk

67
1,780pages on
this wiki
"Oh, no, it's just little, old, un-killable me."
—Abaddon
Abaddon is one of only two remaining Knights of Hell, the other being her retired master, Cain. Abaddon is single-handedly responsible for the extinction of the original Men of Letters. She arrived in the present through time travel in her hunt for Henry Winchester and the key of the Order of Letters he was entrusted with, but failed to retrieve it, with Henry's grandsons Sam and Dean Winchester taking it instead. Upon discovering the shameful state Hell had fallen into in her absence, however, Abaddon abandoned her hunt for the key and began a crusade to take over Hell herself to remake the world as she saw fit—with herself as Queen of Hell, ruling over demons, angels, and humans alike. As part of her plan she is currently having her few loyal demons pull the souls from innocent people to bring these souls to Hell to turn into demons.
Early life
Edit
Abaddon is one of the first demons. She was personally selected by Lucifer, the creator of demons, to become a Knight of Hell.[1] Like most of the Knights, she was trained by the original Knight, Cain, and wreaked havoc on Earth for thousands of years. It is hinted that she had romantic feelings for Cain that he did not return.[2]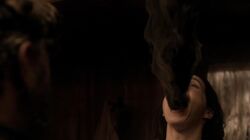 Eventually, Cain fell in love with the human Colette and swore off his evil ways for her sake. Abaddon and the other Knights kidnapped Colette in 1863, with Abaddon hoping to sway Cain and have him rejoin her. While Cain slew the other Knights with the First Blade, he hesitated to attack Abaddon, as she was possessing his wife when he found her. His refusal to return to her prompted Abaddon to begin forcing Colette to twist her neck into grotesque angles to spite Cain, stating that if she could not have Cain, neither could Colette. Right as Cain went to stab Abaddon with the First Blade, she left Colette's body, causing Cain to murder Colette instead. Though Cain wanted to find and kill Abaddon for what she had done, Colette begged him not to kill anyone anymore and Cain honored her wishes by not seeking Abaddon out.[2]
In 1958, Abaddon was sent to make an example of Father Max Thompson after demons learned of his attempts to turn them back into humans. Abaddon killed Father Thompson on August 5, but not before the priest revealed to her his secrets under torture, including the fact that he had been working with a Men of Letters initiate named Josie Sands.[3]
Some time later, While working with demons to steal human souls, Abaddon possesses the Mother Superior of the St. Bonaventure Convent in Milton, Illinois. When Henry Winchester and Josie Sands arrived, investigating the murders committed by one of the soulless nuns, they manage to exorcise two of Abaddon's demons. Abaddon, however proved immune to the exorcism rites and knocked Henry out. She then planned to possess Henry to study and then destroy the Men of Letters, but Josie convinced Abaddon to possess her instead. Abaddon then ordered her demon to continue their work until the day she returns. Leaving with Henry, Abaddon also subtly threatened Julia Wilkinson into not telling anyone what had happened.[4]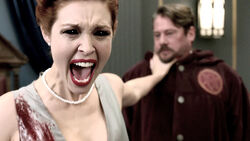 On August 12, Abaddon attacked the Men of Letters headquarters during Josie's initiation ceremony, now seeking to steal the key to their bunker, which housed the greatest stash of secret knowledge and objects that Abaddon could use to incite mass chaos. She killed everyone at the Men of Letters' headquarters except for Larry Ganem and Josie Henry Winchester, who was entrusted with the key (placed inside a box) for safekeeping. Henry used a spell to travel through time, with Abaddon quickly following after him once she burnt down the headquarters.[1]
Due to Abaddon's inexplicable absence, the denizens of Hell came to believe that she had been killed.[5]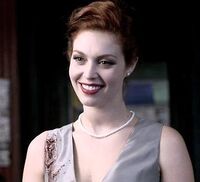 Abaddon appeared in the year 2013 in "
As Time Goes By
", where she was met by Henry's grandsons,
Sam
and
Dean Winchester
. Dean managed to stab her with the
demon-killing knife
, but while it hurt her, Abaddon survived, forcing the Winchesters to flee. After reading the memories of the motel clerk to learn what he knew about Sam and Dean, Abaddon killed the clerk and set off in pursuit of the Winchesters.
Abaddon traveled to the former location the Men of Letters' headquarters, which (as she was amused to discover) had been turned into Astro Comics after being rebuilt from the fire in 1958. She checked the memories of the clerk there to find out what Sam, Dean, and Henry had been there for. Abaddon liked the clerk's "The Devil Made Me Do It" shirt, so after killing the girl, the demon changed out of Josie's gown and pearls and stole the clerk's outfit.
Abaddon tracked the now blind Larry down and possessed his wife shortly before Sam arrived. She listened as Larry explained that the box opened the Men of Letters' highly important storehouse and gave Sam the coordinates to it. She then killed Larry and knocked Sam out before repossessing Josie's body. Abaddon called Dean and demanded that he trade Henry and the box for Sam's life, which he agreed to. She reneged on the deal by trapping Sam and Dean and mortally wounding Henry, who shot her in the head. Abaddon found the headshot to be a "rush," but her good humor instantly disappeared once she discovered that the box she was given was a fake. Demanding to know where the real one was, she tried to read Henry's memories, but was she unable to so much as move— as Dean and Henry had outsmarted her, and the bullet now in her brain had been engraved with a devil's trap. Dean then decapitated Abaddon, planning to cut her into small pieces and bury these pieces in cement to permanently trap her.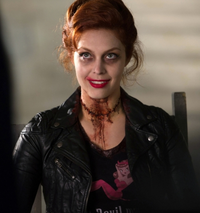 Sam and Dean retrieved Abaddon's body parts and sewed them back together in "Clip Show". As a precaution, however, they did not reattach her hands, which were left in a nearby box. Abaddon deduced that Sam and Dean were planning to turn her back into a human (in order to complete the third trial). When the brothers received a phone call from Crowley, Abaddon was shocked to find out "the salesman" was now the King of Hell. Sam and Dean left the room to talk to Crowley, giving Abaddon the opportunity she needed: she had one of her hands climb out of its box, crawl onto her body, and remove the bullet from her head, thus enabling her to move again. By the time Sam and Dean returned, Abaddon had vanished.
After Crowley sent out a distress call in "Sacrifice", Abaddon showed up with both of her hands now reattached. Using terrakinesis, she broke the devil's trap holding Crowley and flung Sam around before throwing the hunter out of a window. However, she was not there to save Crowley for she was furious that, in the time she was gone, a mere crossroads demon had assumed leadership of Hell. She proceeded to beat Crowley, saying that she wanted a "regime change," but before she could do anything else, Sam returned, doused her in Holy Oil, and set her on fire, forcing Abaddon to escape from Josie's burning body.
In
Devil May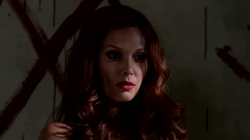 Care,
as she attempted to take over hell, she had a demon perform a
ritual
to restore
Josie Sands
's body for Abaddon to use. Once restored, she rallied several demons, convincing them that deals are not as important as fighting and conquering. She met resistance from a
Crossroad Demon
, but she sent the demon back to Hell merely by choking the human host. Abaddon told the Crossroads Demon to tell everyone in hell that she is coming to rule them and to lead them in a march to annihilate mankind and make the fallen angels bow to her. Abaddon led her three loyal demons to a military base where she had them possess three soldiers and kidnaped two hunters,
Irv
and
Tracy
to draw the Winchesters to her. Abaddon confronted Dean and Tracy, but avoided being shot by more
Devil's Trap
bullets by wearing a bullet-proof vest and disarmed Dean of an
Angel Blade
when he tried to use it on her. Abaddon threatened to possess Dean and make him witness all the atrocities she commits unless he reveals the location of
Crowley
, promising to kill him quickly if he does. However, when
Ezekiel
reveals his true form nearby, Abaddon flees.
In Heaven Can't Wait, Crowley used a Goblet of Blood to contact Abaddon who was amused by his call. Abaddon revealed that she has gone back on all of the deals Crowley has made and collected the souls early, doubling the amount of souls in Hell. She was also reshaping Hell to be more chaotic and claimed that since Crowley's disappearance, he did not have much support left. When Crowley threatened her, Abaddon told him she "cannot wait" and hung up on him.
Abaddon continued her campaign to control Hell. However, in Road Trip, she met some resistance from some demons, including her escorts. Abaddon learned Crowley's location from a subordinate whom she killed after learning that she was also working for Crowley too. After finding Crowley her escorts refused to kill him on her commands, as Crowley still had much support from his original minions. Abaddon proposed a fight to settle the struggle but Crowley stated that it was not a fight but a campaign.
In First Born when Dean and Crowley met Cain in search of The First Blade, Cain revealed his past with Abaddon and the other knights and transfered his mark to Dean so he could be the only one to kill Abaddon.
In Blade Runners, Abaddon learns of Crowley's search for the First Blade from the demon Lola who acted as Crowley's supplier and begins her own search for the weapon to thwart Crowley's plans. She also sends two demons to the blade's last known location but former Men of Letters member Magnus had already aquired it before Abaddon's demons could grab. 
In Mother's Little Helper, Sam learns of Abaddon's actions in Milton in 1958 from Julia Wilkinson and realizes that the demon possessing Sister Agnes, Abaddon's remaining minion from that time, is once again continuing her work. Sam kills the demon and returns the souls, but not before learning that Abaddon is stealing souls to create an army of demons loyal only to her and there are places that this is happening all over, not just in Milton.
Personality
Edit
"Long live the queen."
—Abaddon
Abaddon is untrustworthy, greedy, and quick to anger, but also very cunning. She adapts quickly, as she managed to use modern technology, weaponry, and armory to her advantage despite being here only a short time in the present. She is a brilliant strategist, able to secure several meatsuits and weapons for her subordinates in one move, as well as to locate and take prisoner two hunters who could be used as bait for the Winchesters, effectively luring them in and briefly overpowering them. She has a twisted sense of humor, seeming amused when she discovered that the Men of Letters' headquarters had been turned into a comic book store and then laughing when it seemed that Dean and Henry had fallen into her trap. She even went so far as to kill a girl and steal the clothes off the girl's corpse to dress herself simply because of the girl's ironic "The Devil Made Me Do It" shirt. Abaddon is extremely ambitious and power-hungry, even for a demon; she plans to not only take over as ruler of Hell, but also the world, forcing all demons, humans, and fallen angels to bow to her or be killed.
Although Abaddon enjoys causing suffering to others and basks in the fear her victims have of her, she prefers to kill her victims in quick, brutal ways and move on. She views killing as "art"; when comparing her murder of Father Thompson to her killing the Men of Letters, she judged how she slaughtered the Men of Letters to have been better, commenting that her killing of Father Thompson merely "got the job done." Additionally, she saw the act of killing her victims quickly as merciful, as opposed to torturing them over a longer period of time before taking their lives. The fact that she used torture to interrogate hunters in "Devil May Care" despite being telepathic and having the ability to simply extract the desired information from their minds suggests that Abaddon was either teaching her minions better techniques for torture, indulging her sadistic side, or a combination of both.
Abaddon flaunts her superiority over others. However her arrogance can cause her to underestimate and underplay her opponents, which was how she was defeated in "As Time Goes By" and "Sacrifice". She has shown to be highly aggressive and has a tendency to attack those who do not show her enough respect. She beat Crowley up when he tried to command her and then insulted her by calling her a "whore". Similarly, Abaddon choked one Crossroad Demon who called the Knights of Hell "overrated", and sent her back to Hell as a warning to other demons. Abaddon values young attractive vessels and takes pride in possessing them, considering Josie Sands and Dean worthy vessels for herself. She arranged for her minions to possess young, fit, healthy vessels because she deemed them superior to the ones they had been using. She showed disdain at Larry Ganem's having aged.
Abaddon believes that a worthy King of Hell fights and conquers. She was outraged and appalled upon learning that Crowley is the new King of Hell, and quickly began preparing to overthrow him and take over leadership of Hell herself. She has shown immense disdain towards Crowley and his methods. She views him as an inadequate King because he is most concerned with contracts; unlike Crowley, Abaddon does not care about the politics of deal-making. As she finds out more about what Hell and demon-kind have devolved into in her absence, Abaddon has expressed varying levels of shock, disgust, and even caustic amusement at the state of things. She believes that Crowley is the source of Hell's problems, stating that she and her forces will be hailed as liberators by other demons when they do take over.
Powers & Abilities
Edit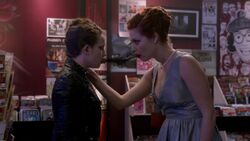 Although Abaddon is a black-eyed demon, she is also a Knight of Hell and thus far more powerful than average demons. She displays some powers that are either rare or unique among even high-ranking demons. Abaddon single-handedly slaughtered a group of Men of Letters elders with ease, despite their vast knowledge of magic. She also believes herself capable of killing the current King of Hell, Crowley, though Crowley also claims that he can kill her. Despite Abaddon's power, she is vulnerable to some demonic weaknesses and is wary of angels, refusing to fight even one on her own. Abaddon's screams (or even presence) are able cause thunder and lightning to strike.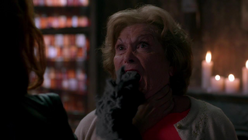 Teleportation - Abaddon can vanish from one location and reappear at another at will. She used this to flee in "Devil May Care" due to Gadreel's presence nearby. It seems that she also used this to escape the Winchsters once she removed the devil's trap bullet from her head.
Terrakinesis - Abaddon has the power to create seismic activity. She broke a devil's trap containing Crowley by causing tremors that cracked the floor of the church Crowley was in. She did this before even physically arriving at the church.
Flight - In her disembodied smoke state, Abaddon can fly.
Tactile Exorcism - Abaddon can expel another demon from its vessel and cast it back to Hell by choking said demon's vessel.
Weaknesses
Edit
Devil's trap - Abaddon is unable to escape a devil's trap or use her powers when caught inside one. However, she was able to make her dismembered hand move to her and remove the devil's trap-engraved bullet in her skull so that she could regain full mobility and power.
Archangels - Abaddon is presumably weak against Archangels as she was cautious of a weakened angel. 
Seraphim - Abaddon is potentially weak against a Seraph, as she was extremely cautious against one weakened angel.
Angels - Abaddon is at the very least wary of angels. She fled when she learned that the Winchesters had brought an angel with them as back-up, which suggests that Abaddon believed that even a fallen angel would be difficult for her to defeat.
Demon-killing knife - Although it cannot kill her, being stabbed with the demon-killing knife in "As Time Goes By" caused Abaddon enough pain that she fell to her knees and was incapacitated long enough for Sam, Dean, and Henry Winchester to escape.
Holy fire - Although it cannot kill her and she seems to be more resistant to it than lower-level demons, contact with holy fire is extremely painful to Abaddon. When Sam set her aflame with holy fire, she quickly exited her vessel and fled rather than continue enduring the agony it caused her.
Holy Water - Abaddon finds contact with holy water very painful and can be temporarily incapacitated by it.
Angel Blade - Abaddon is at least wary of angel blades. When Dean confronted her with one, she took the precaution of disarming Dean before he could use it on her.
The First Blade - The First Blade combined with the Mark of Cain is the only known thing that been confirmed to be able to kill her.
Appearances
Edit
Abaddon is the Hebrew word for "destruction". In Revelation, Abaddon is called "The Destroyer."
In Jewish lore, Abaddon is simply a word for the afterlife (sometimes, of Hell itself). In Christian lore, however, Abaddon is a demon or fallen angel; in Revelation, he is known as "the angel of the bottomless pit" who rules over an army of demonic locusts that will torment people who do not have the seal of God on their foreheads, for five months. Some Christian traditions hold that Abaddon is actually the Devil himself. When personified as an actual entity in lore, Abaddon is male as opposed to the female Abaddon of Supernatural, who is a fictional depiction of Abaddon.
Abaddon is the fifth demon of lore to appear in Supernatural, the other four are (in order of appearance) Azazel, Astaroth, Lilith, and Alastair.
There was an angel in the novel Supernatural: War of the Sons named Abbadon who went by the nickname "Don." This angel guarded Lucifer's Cage and sent Sam and Dean Winchester back in time. War of the Sons was published on February 9, 2011, two years before the demonic Abaddon was introduced on the show. Whether there is any correlation between the two characters is unknown.
Abaddon is among the most powerful demons to appear and seems to rank high in the hierarchy of Hell, but ironically she has black eyes, which usually designate a common, low-ranking demon.
Abaddon is the second demon to survive being stabbed with the Demon-killing knife; the first was Alastair.
John Winchester once interrogated a demon who had served Abaddon. John wrote this down in his journal.
Larry Ganem described Abaddon as a "hired gun" in "As Time Goes By". This indicates that she was working for someone or something more powerful in 1958.
It seems that Abaddon enjoys injuring her victims' eyes: she blinded Larry by making him bleed heavily from the eyes, and expressed excitement at the idea of tearing out Dean's "pretty green eyes."
Abaddon has shown an unusual attachment to using Josie Sands' body as her own. She has twice returned to Josie's body after vacating it, even arranging for one of her minions to reconstitute it using a Demon Host Restoration ritual. Abaddon herself did not even take a new vessel to perform the ritual herself, instead remaining in disembodied form and waiting for Josie's body to be restored so she could possess it.
Apparently Abaddon had developed feeling for Cain somewhere in the past as she showed jealousy towards Cain's wife Colette as shown in First Born. It is possible she was attracted to his power.
References
Edit
↑ 2.0 2.1 First Born