Adam Fergus is an Irish film, television and stage actor.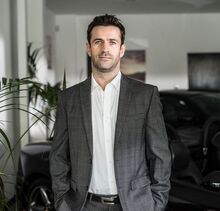 He graduated from the University College Dublin with a Bachelor of Arts degree. He studied acting at the Gaiety School of Acting in 2003. Adam made his first screen appearance on the television series "Proof". He gained stronger recognition with his role in the romance film "Satellites and Meteorites", for which he won the Fort Lauderdale Film Festival award for "Best On Screen Couple" alongside actress Amy Huberman. He is also a regular cast member of the Canadian comedy series "Being Erica".
Adam is active in golf, horseback riding, snowboarding, cycling, martial arts and tennis, among other sports. He can play the guitar and dance Tango.
In Supernatural, Adam portrayed British Men of Letters member Mick Davies in Season 12 for six episodes.
Elizabeth Blackmore mentioned in an interview that working with Adam was difficult, because he made her laugh a lot.
Adam and David Haydn-Jones are best friends.
When questioned on Twitter on what his favorite part about working with Jensen and Jared, it was "the smell".[1]

His favorite line was the one when he asks Dean for vodka in The British Invasion.[2]
He also answered that if he could keep something from the set of Supernatural, it would be the suits he wore while portraying Mick.[3]

He is a fan of the soccer team Liverpool F.C. of the English Premier League.
References
Edit