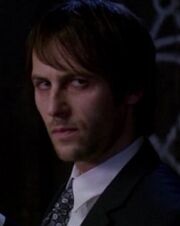 Adrian Glynn McMorran is a Vancouver, Canada-based actor and musician. He has been featured in numerous TV shows, such as Smallville and Arrow.
Adrian also records and tours as a singer-songwriter, playing shows in Canada and Europe, both as a solo act and as a member of the Canadian modern folk group, "The Fugitives". As a solo artist, Glynn's first full-length record, "Bruise", won him a nomination for Emerging Artist of the Year at the Canadian Independent Music Awards.
On Supernatural, Adrian portrayed the angel Inias in season 7 episode Reading Is Fundamental, and as the ghost Chester Johnson in season 11 episode Plush.
Ad blocker interference detected!
Wikia is a free-to-use site that makes money from advertising. We have a modified experience for viewers using ad blockers

Wikia is not accessible if you've made further modifications. Remove the custom ad blocker rule(s) and the page will load as expected.