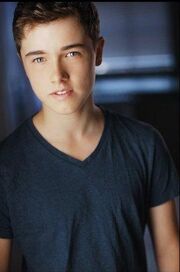 Alexander Ferris (born April 23, 1997), credited as Alex Ferris, is a Canadian child actor. He played young Sam Winchester in the episode "Something Wicked".
He appeared on jPod as Connor Lefkowitz, and appeared in The Time Traveler's Wife as Young Henry DeTamble.
Ferris was born in Vancouver, British Columbia, Canada. He appeared in the movie RV as Billy Gornicke, The Invisible as Victor Newton, Diary of a Wimpy Kid as Collin Lee and The Time Traveler's Wife as Young Henry DeTamble. He also provides the voice of T.D. in the television series Martha Speaks. He played in the Showtime Network's The L Word as Wilson Mann-Peabody, son of Helena. He is the voice of Paulie the Pliosaurus in Dinosaur Train.
External Links
Edit
Ad blocker interference detected!
Wikia is a free-to-use site that makes money from advertising. We have a modified experience for viewers using ad blockers

Wikia is not accessible if you've made further modifications. Remove the custom ad blocker rule(s) and the page will load as expected.