You think his friends just called him Yellow Eyes? He had a name.
This article is about a canonical individual whose real name is unknown, and is known only by a conjectural title, nickname or alias.
The alpha shapeshifter was the very first shapeshifter and the one who spawned all the others.
Early Life
Edit
It was the first shapeshifter created by Eve. Its age remains unclear, but as the stories of its children are around thousands of years old, it is likely the alpha has been alive since its mother last walked the earth, ten thousand years ago.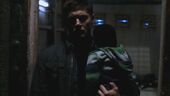 In "
Two And A Half Men
", this shapeshifter starts gathering a following of its 'offspring' and is apparently reproducing with women by morphing into their husbands. When
Sam and Dean
rescue one of its children, the alpha storms the
Campbell
's
compound
and kills
Mark Campbell
, overcoming several gunshot wounds and tranquilizer darts, as well as a
silver
knife to the heart. This shapeshifter is able to transform in just a few seconds without shedding its skin. It then takes the baby from
Dean
, but doesn't kill him.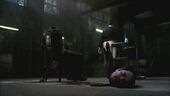 In "Caged Heat", Crowley interrogates the alpha shapeshifter on Purgatory's location. Crowley then reveals that iridium, although expensive (saying that dropping a castle on him would be cheaper) and rare, is capable of damaging and even killing the alpha shapeshifter. He threatens to kill the shapeshifter's offspring that he currently has captured, but the alpha shapeshifter still refuses and tells Crowley that more shapeshifters would be produced if he killed the others. Crowley beheads the alpha.
Powers and Abilities
Edit
The alpha shapeshifter has all the traits and abilities of normal shapeshifters, although at unbelievable levels. It also has several unique powers, which come with being an alpha.
Alpha Abilities
Edit
Weaknesses
Edit
Appearances
Edit
Ad blocker interference detected!
Wikia is a free-to-use site that makes money from advertising. We have a modified experience for viewers using ad blockers

Wikia is not accessible if you've made further modifications. Remove the custom ad blocker rule(s) and the page will load as expected.