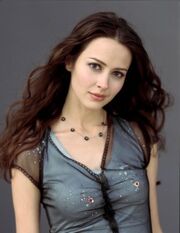 Amy Louise Acker is an American actress, best known for the roles of Winifred Burkle and the demon Illyria on the TV series Angel, Kelly Peyton on Alias and Claire Saunders/Whiskey on Dollhouse. In Supernatural she portrayed Andrea Barr in the Season 1 episode Dead In The Water.
External links
Edit
Ad blocker interference detected!
Wikia is a free-to-use site that makes money from advertising. We have a modified experience for viewers using ad blockers

Wikia is not accessible if you've made further modifications. Remove the custom ad blocker rule(s) and the page will load as expected.