Amy Pond
Talk

0
1,339pages on
this wiki
Amy Pond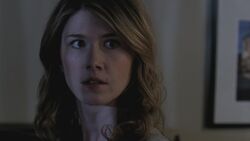 Status
Deceased
(killed by Dean)
Portrayed by
Jewel Staite (Present Day)
Emma Grabinsky (Young Amy)

Amelia (Amy) Pond was an old friend of Sam's and a Kitsune.
Early Life
Edit
Amy was traveling with her mother, when her mother took off and left her in a town. At a local library she met Sam, but she instantly turned him down. But when he saves her life, she takes Sam home and treats his bruises. The two connect and share a kiss. Then Amy's mother returns and Amy quickly hides Sam. Her mother comes in telling Amy that two hunters (John and Dean) in an Impala are on her trail, and that they have to leave. Amy tells her mom to go to the van and she will pack. Amy lets Sam out of the closet and he tells her he is a hunter, but lets her go. Then her mother grabs Sam, but Amy saves him by stabbing her mother and killing her. Sam tells Amy to run and he cleans up the body.
In "The Girl Next Door", Amy starts killing when her young son falls ill. For years she had been working as a morgue worker so she could feed off dead brains. These killings however attract the attention of Sam, who stops her in a park. She manages to knock him unconscious, and quickly heads home. Sam follows her home, and demands to know why she's killing. She tells Sam she has a son and he needs the live food to save his life. Feeling for her, Sam lets her go. She quickly leaves with her son to a motel, where Dean tracks her down and stabs her in the heart. After her death Dean threatens her son that if he starts killing he'll kill him too, but her son swears revenge on Dean for killing his mother. Amy's death causes a rift between Sam and Dean after Sam learns of it later on.
Amy Pond is the name of the Eleventh Doctor's first companion from the UK series Doctor Who.
Amy was played by Jewel Staite, well-know for her portrayal of Kaylee Frye in Firefly and Serenity.