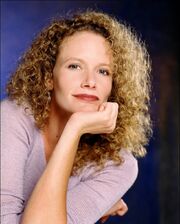 Ashley Diane Crow
(b. August 25, 1960) is an American actress.
Ashley portrayed vampire Celia in the season 9 episode "Alex Annie Alexis Ann" in Supernatural. She is best known for her role as Sandra Bennet in Heroes.
Ashley was born in Chicago, Illinois. She is married to fellow Heroes cast member Matthew John Armstrong, who played the role of Ted Sprague. He also played Elias Finch in the Season 6 episode "Frontierland". She has one son.
Ad blocker interference detected!
Wikia is a free-to-use site that makes money from advertising. We have a modified experience for viewers using ad blockers

Wikia is not accessible if you've made further modifications. Remove the custom ad blocker rule(s) and the page will load as expected.