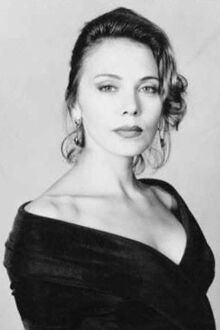 Brenda Jean Bakke (b. May 15, 1963) is an American actress.
Bakke was born in Klamath Falls, Oregon, and began her acting career in a Portland stage production of Years Ago at age 15. She made her screen debut in the 1986 movie Hardbodies 2. In later years, she had a number of roles in low-budget genre movies, such as The Medium.
Other roles include appearances in The Medium, Gunmen, Under Siege 2: Dark Territory, L.A. Confidential, Moving August, Second Chances, Charmed, NYPD Blue, and Criminal Minds: Beyond Borders.
In Supernatural, Bakke portrayed Suzie in season 10 episode "The Werther Project".
Ad blocker interference detected!
Wikia is a free-to-use site that makes money from advertising. We have a modified experience for viewers using ad blockers

Wikia is not accessible if you've made further modifications. Remove the custom ad blocker rule(s) and the page will load as expected.