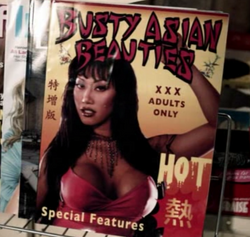 Busty Asian Beauties is a multimedia featuring east Asian women in erotic poses. It is one of Dean's favorite erotic shows, along with Casa Erotica. It was first mentioned in Tall Tales, when Sam 's laptop froze in the webpage of the said porn media. It has since been regularly mentioned or showed either in print, such as magazines, or in its website format.
A vintage magazine under the name "Voluptuous Asian Lovelies" was stored in the cache of the Order of Letters, which Dean uncovered. Dean described the magazine as the very first edition, implying Voluptuous Asian Lovelies was the precursor to the current porn media.
Appearances
Edit
Ad blocker interference detected!
Wikia is a free-to-use site that makes money from advertising. We have a modified experience for viewers using ad blockers

Wikia is not accessible if you've made further modifications. Remove the custom ad blocker rule(s) and the page will load as expected.