This is the gathering place of all the Campbell family, and its long line of hunters. This place was first seen in Season 6's
Two And A Half Men
. During Sam's Soulless period, this is where he stayed along with his grandfather
Samuel Campbell
, who was the head of the family. It appears abandoned following Samuel's death.
Outside Appearance
Edit
On the outside it seems to be an old shabby building. Although it has a chain link fence around its perimeter, with bared wire on the top. There is only one road into this place, which goes into the one gate. The gate has to be manually opened by someone. In this case, one of the hunters outside. The building also appears to be somewhere in the country side.
Inside Appearance
Edit
Inside, the building is not decorated in the slightest. It has what is necessary for the hunters inside. Like weapons caches, and tables to work on. Samuel also has his office in this building, which is a bit more filled then the compound itself.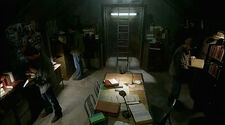 There is a panic room located downstairs, but not as fancy as Bobby's is. The panic room is half the size of
Bobby's Panic Room
and only has lighting, nothing more. Under Samuel's office is the Campbell Family Library, where Dean discovered
Samuel Colt's Journal
.
Appearances
Edit
Ad blocker interference detected!
Wikia is a free-to-use site that makes money from advertising. We have a modified experience for viewers using ad blockers

Wikia is not accessible if you've made further modifications. Remove the custom ad blocker rule(s) and the page will load as expected.