Cassie Robinson is the daughter of Martin and Audrey Robinson. She was in a long term relationship with Dean before he joined Sam in the hunting life. They separated due to her inability to cope with Dean's life as a hunter.
Background
Edit
Cassie got a job as a reporter and eventually met Dean at some unknown point. Dean and Cassie dated and eventually became serious enough that Dean explained "his job" to her but she did not believe him and thought that it was a lie made up to cover for his disappearances.
Dean and Sam return to her hometown on suspicion of supernatural goings-on. Cassie's father was killed by the spirit of Cyrus Dorian and his truck on Route 6. Cyrus' family had been powerful in the town decades ago and Cyrus was a white racist who had been romantically involved with Cassie's mother, a white woman, but she married Cassie's father, a black man, instead. Cassie's father co-owned a car dealership with his best friend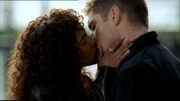 Clayton Solmes. He killed Cyrus in self-defense and covered it up with the help of some friends decades ago, as the justice system at the time would have sentenced a black man to death for killing a white man regardless of the circumstances under which it took place.
Next on Cyrus' list is Cassie's mother, Audrey. Together, the brothers and Cassie work to save her mother. Once the ghost truck is gone, she sees Dean off. During this episode, she and Dean reconnect.
Appearances
Edit