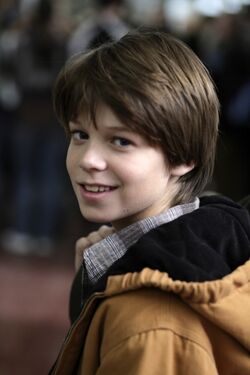 Colin Ford is a child actor who has portrayed a young Sam Winchester, the older version being portrayed by Jared Padalecki, in a total of 6 episodes to date.
Background
Edit
Born in Nashville, Tennessee on September 12th, 1996, he landed his first modelling gig in Atlanta Georgia at the age of 6. His first movie appearance was as an uncredited Clinton Jr. in "Sweet Home Alabama". After a few movies, he landed a guest starring role in the TV series "Smallville" and continued with other shows such as Hawaii 5-0. His big break came when he landed the leading role in "Dog Days of Summer" as Jackson Patch. He has also appeared in movies such as Ticket Out (2010) as DJ and We Bought a Zoo (2011) as Dylan Mee, both being lead roles. He currently working on multiple projects due out in 2012.
He first took on the mantle of young Sam Winchester in the Season 3 episode, A Very Supernatural Christmas in 2007 as an 8-year old. This first appearance was succeeded by five more appearances in the following episodes: After School Special (2009), When the Levee Breaks (2009), Dark Side of the Moon (2010), The Girl Next Door (2011) directed by Jensen Ackles, and The Devil in the Details (2016) .
Supernatural
Edit
Filmography
Edit
Sweet Home Alabama... 2002
Moved... 2004
The Work and the Glory... 2004
Smallville... 2005
The Work and the Glory II: American Zion... 2005
Faceless... 2006
The Tonight Show with Jay Leno... 2006
The Chelsea Handler Show... 2006
The Ant Bully... 2006
Close To Home... 2006
American Family... 2007
In The Name of the King: A Dungeon Siege Tale... 2007
Side Order of Life... 2007
Dog Days of Summer... 2007
Martian Child... 2007
Christmas Is Here Again... 2007
Journeyman... 2007
Lake City... 2008
Can You Teach My Alligator Manners? (10 episodes)... 2008
Outside Candy... 2009
Bride Wars... 2009
Push... 2009
Special Agent Oso... 2009
Alabama Moon... 2009
All Kids Count... 2010
Jack and the Beanstalk... 2010
Private Practice... 2010
Ticket Out... 2010
Supernatural (5 episodes)... 2007-2011
Eye of the Hurricane... 2011
Jimmy... 2011
We Bought A Zoo... 2011
Gatchaman... 2012
Disconnect... 2012
Under The Dome... 2013
Award Nominations and Awards
Edit
Nominations:

Young Artist Award - Best Performance in a TV Series - Guest Starring Young Actor for Journeyman (2008)
Young Artist Award - Best Performance in a Voice-Over Role - Young Actor for Christmas Is Here Again (2009)
Young Artist Award - Best Performance in a Feature Film - Supporting Young Actor for Lake City (2009)

Awards:

Young Artist Award - Best Performance in a TV Series - Recurring Young Actor (Age 13 and under) for Supernatural (2010)
External Links
Edit
Ad blocker interference detected!
Wikia is a free-to-use site that makes money from advertising. We have a modified experience for viewers using ad blockers

Wikia is not accessible if you've made further modifications. Remove the custom ad blocker rule(s) and the page will load as expected.