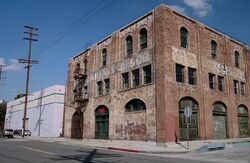 Danger Bar
was the location where
the Community
congregated.
Description
Edit
Outside, the bar appeared to be a derelict building with signage markings of its previous establishment names. Inside, however, it was a bar that was full of amenities for witches, familiars and other related magical practitioners to enjoy. It served drinks, provided games like chess, among other things.
A spider-like symbol appeared consistently outside and inside the bar. It was found on its counters and on the entrance and exit of the building. Although its name was not seen outside, it was depicted in neon lights right before the staircase that led down to it.
Appearances
Edit
Ad blocker interference detected!
Wikia is a free-to-use site that makes money from advertising. We have a modified experience for viewers using ad blockers

Wikia is not accessible if you've made further modifications. Remove the custom ad blocker rule(s) and the page will load as expected.