Devil's Shoestring 
is an item capable of warding or summoning different types of
supernatural beings
.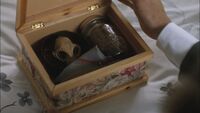 Dean figured out that Bela Talbot was using Devil's Shoestring in an attempt to ward away the impending hellhounds after her, as her crossroads deal had expired.
Devil's Shoestring is a key component in summoning the goddess Veritas. This ingredient, paired with a cat's skull and Grains of Paradise, would successfully summon her.
Appearances
Edit
Ad blocker interference detected!
Wikia is a free-to-use site that makes money from advertising. We have a modified experience for viewers using ad blockers

Wikia is not accessible if you've made further modifications. Remove the custom ad blocker rule(s) and the page will load as expected.