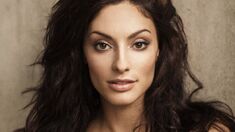 Erica Cerra (b. October 31, 1979) is an actress born in Vancouver, British Columbia.
She discovered her love of acting at the age of 8, after which she appeared in numerous commercials before taking a break. She chose to work professionally at the age of 22, and has appeared in TV series such as Syfy's Eureka, Sanctuary, Warehouse 13 and Motive.
In Superntural, she portrayed Robin, a victim of Soulless Sam Winchester, who appeared in season 6 episode "The Man Who Knew Too Much".
Erica is married to Raffaele Fiore and has one child with him. She is of Italian descent.
Ad blocker interference detected!
Wikia is a free-to-use site that makes money from advertising. We have a modified experience for viewers using ad blockers

Wikia is not accessible if you've made further modifications. Remove the custom ad blocker rule(s) and the page will load as expected.