The Fate Manipulation Spell article is a Stub
The Fate Manipulation Spell article is short and lacking information. You can help Supernatural Wiki by expanding it.
Well, congrats. You discovered it. You get to name it.
Although this article is based on canonical information, the actual name of this subject is conjectural.

The Fate Manipulation Spell is a very powerful incantation with the power to change the fate of oneself and/or another. Rowena is the first witch known to use this spell changed the fate of her rival, Olivette, into a hamster.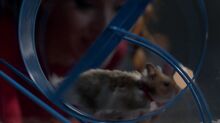 Incantation: "Fatum tuum, est itersine...Termino ad...Nullum!"
Appearance
Edit
Ad blocker interference detected!
Wikia is a free-to-use site that makes money from advertising. We have a modified experience for viewers using ad blockers

Wikia is not accessible if you've made further modifications. Remove the custom ad blocker rule(s) and the page will load as expected.