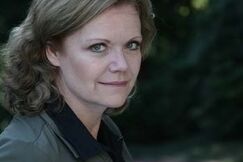 Gillian Barber (b. February 22, 1958) is an English-born Canadian actress.
She was born in Coventry, West Midlands, England and raised in British Columbia, Canada.
She studied at the Guildhall School of Music and Drama in London and BFA program in the University of Victoria.
She appeared films such as The Stepfather, Needful Things, and Jumanji, TV series such as The X-Files and Stargate SG-1, and TV animation Sabrina: The Animated Series and Adventures from the Book of Virtues as voice actress.
She teaches at Capilano University, British Columbia, and created the Musical Theatre program in 2007.
Supernatural
Edit
Gillian portrayed Mrs. Rourke in the season 1 episode Faith and Doctor Hess in the season 12 episode The British Invasion.
Ad blocker interference detected!
Wikia is a free-to-use site that makes money from advertising. We have a modified experience for viewers using ad blockers

Wikia is not accessible if you've made further modifications. Remove the custom ad blocker rule(s) and the page will load as expected.