Hellhounds are ballistic and maniacal canine-like beasts of the supernatural world, specifically Hell (hence the name), which are known to serve demons. Described as demonic pitbulls, hellhounds are ferocious, terrifying entities that inspire fear in humans, demons and even angels.
With time they became tasked with collecting the souls of humans whose deals are come due. In such circumstances, hellhounds can only be seen by those whom they have come for, making them a sort of Reaper of the damned. In later seasons, hellhounds are seen working for various other demons (not just Crossroads demons), usually acting as foot soldiers, guard dogs and/or assassins.
According to Crowley, no demon knows the hounds better than him. As the "Demonic pit bulls" of Hell, Hellhounds are also one of the most recurring supernatural creatures in the series.
According to Crowley, after God started creating the Universe, he made an abundance of creatures, including the Hellhounds, which he intended to be used as "the Creator's best friends". However, the Hellhounds proved to be too vicious, so God decided to destroy them all. But Lucifer, once he fell from Heaven, managed to rescue one of the Hellhounds, Ramsey, who was pregnant, and from Ramsey the hellhound population regrew.
And from that moment on over the millennia, Hellhounds served as "demonic pit bulls" to demons, going after humans who had sold their souls.
Characteristics
Edit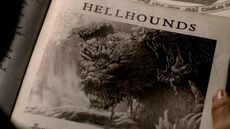 Hellhounds are voracious, tenacious, and intelligent. Once a hound has the scent of its target, it has it for life and will never give up the hunt until one or the other is dead, or unless its master calls it off. They can be clever, almost impossible to trick or distract, and are not disinclined to improvisation in order to get to their prey. Hellhounds will often physically rip their victims to shreds in order to collect their souls. In some cases, however, their mere presence is enough to literally scare people to death. Other times, the victims will be driven to commit suicide.
They appear as ferocious black dogs with red eyes. They vary in size, ranging from standard large-sized dogs, to that of a small horse. They generate some kind of black aura around themselves, making them appear made of shadows.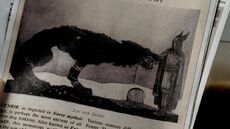 As dogs, they are loyal, and answer only to the demons they serve; they cannot be swayed or bargained with, either. Not even Crowley could devise a way to throw them off, short of using a bigger hound of his own to kill them.
Exactly how they are controlled is unclear. They have been shown to understand verbal commands, but sometimes they have stopped simply because the demon they serve changed their mind.
Hellhounds are vulnerable to iron, salt, The Colt, an Angel Blade and Ruby's knife. They are generally invisible unless the human they are after made a crossroads deal or is looking at them with an object scorched with Holy Fire, such as Hellhound Glasses.
Any
demon
can command a hellhound, but very few of them can overpower one, or at least many at the same time. It is unknown if any demon or even angels could overpower one without the use of certain weapons. However, an archangel could easily destroy one. In the episode
The Devil You Know
, it is revealed that Crowley has his own hellhound that he keeps as a pet. This hellhound is bigger than most other hellhounds and Crowley uses it to fight off another, smaller hellhound.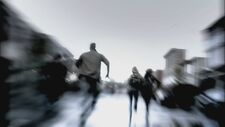 However, only Lucifer could command their mother, Ramsey.
Powers and Abilities
Edit
Weaknesses
Edit
Known hellhounds
Edit
Appearances
Edit
Although only appearing only once or twice every few seasons but as the "
demonic pit bulls
" of hell, Hellhounds are one of the most recurring supernatural entities in the series besides demons, appearing in a total of 12 episodes.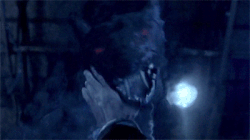 Ad blocker interference detected!
Wikia is a free-to-use site that makes money from advertising. We have a modified experience for viewers using ad blockers

Wikia is not accessible if you've made further modifications. Remove the custom ad blocker rule(s) and the page will load as expected.