Jenny Greentree (1893-1924) was a woman whose family was killed in a fire.
Early life
Edit
After the death of her family, she became homeless, and one night in a blizzard, she froze to death in the woods outside Junction City, Kansas. She carved her initials into a tree before she died.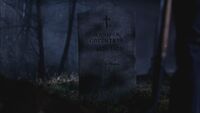 She is suspected to be behind the death of a boy, and Garth salts and burns her corpse. However, when the boy's brother dies, Garth calls Dean and Sam for help in finding the real culprit.
Appearances
Edit
Her death appears to be ironic. While her family was killed in a fire, she was killed due to freezing to death.
Ad blocker interference detected!
Wikia is a free-to-use site that makes money from advertising. We have a modified experience for viewers using ad blockers

Wikia is not accessible if you've made further modifications. Remove the custom ad blocker rule(s) and the page will load as expected.