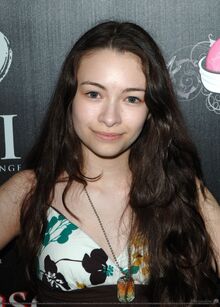 Jodelle Micah Ferland (b. October 9th, 1994) is a Canadian actress.
She made her debut in an episode of CTV's Cold Squad, and then landed the lead role in her first film, Mermaid. Her portrayal of the heartbroken Desi earned her a Daytime Emmy Award nomination, making her the youngest in history. She also starred in the dual role of Sharon/Alessa in the film Silent Hill, as well in the role of Patience Buckner in The Cabin in the Woods.
Jodella has also appeared on They, Trapped, and Carrie, as well as Smallville, Dark Angel, and The Collector. Jodella won a 2008 Camie Award for her lead performance as Hollis in the movie Pictures of Hollis Woods.
In addition to being a fan of Supernatural, she also portrayed Melanie Merchant in the season 1 episode Provenance.
Ad blocker interference detected!
Wikia is a free-to-use site that makes money from advertising. We have a modified experience for viewers using ad blockers

Wikia is not accessible if you've made further modifications. Remove the custom ad blocker rule(s) and the page will load as expected.