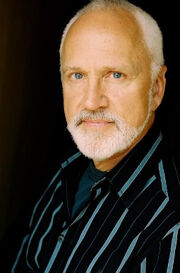 John Rubinstein
is an award-winning actor and composer of American stage and screen.
His many credits include Perception, The Mentalist and Desperate Housewives. He is also known for his award winning performance in the title role of the original Broadway production of Bob Fosse's Pippin, and his role in Children of a Lesser God, for which he received a Tony Award.
In Supernatural he portrayed Charlie in "Criss Angel Is a Douchebag", in Season 4. The episode co-starred his son, Michael Weston, as young Charlie.
He also appeared in two other monster-of-the-week style TV series, Angel and Charmed. In Season 7 and Season 11, Harry Groener and Keith Szarabajka would appear in Supernatural, who also appeared in the Buffyverse and Charmed.
External Links
Edit
Ad blocker interference detected!
Wikia is a free-to-use site that makes money from advertising. We have a modified experience for viewers using ad blockers

Wikia is not accessible if you've made further modifications. Remove the custom ad blocker rule(s) and the page will load as expected.