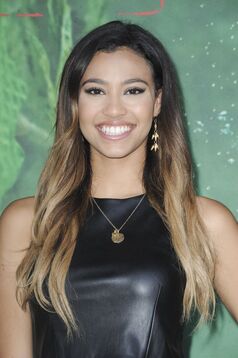 Kara Mae Royster
(b. October 5, 1993) is an actress.
Kara was raised in Palm Beach Gardens, Florida. She developed an interest in acting at the age of 5 after she was inspired by her older sister. Kara attended Bak Middle School of the Arts and the Dreyfoos School of the Arts. Her family later relocated to California so Kara could more actively pursue her dreams. Kara majored in Theater at the Los Angeles County High School.
In addition to being an actress, Kara is a talented makeup artist whose credits include multiple photo shoots and music videos.
Kara's father is Jerry Royster, an African-American, former professional baseball player, coach and manager. Kara's mother is French-Canadian and Irish.
Supernatural
Edit
Kara portrayed Alicia Banes in Season 12, episodes "Celebrating The Life Of Asa Fox" and "Twigs & Twine & Tasha Banes", the former in which she also portrayed Jael.
As Alicia, Kara had a voice role in "First Blood".
Ad blocker interference detected!
Wikia is a free-to-use site that makes money from advertising. We have a modified experience for viewers using ad blockers

Wikia is not accessible if you've made further modifications. Remove the custom ad blocker rule(s) and the page will load as expected.