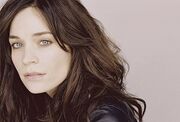 Kathleen Munroe is a Canadian actress, known for roles in TV's Resurrection, Call Me Fitz, CSI:NY, Alphas, Haven and for an award winning performance in Flashpoint. In Supernatural , Season 3, she portrayed a changeling's mother, Dana Keel, in The Kids Are Alright, and Elizabeth in Season 8 episode Citizen Fang.
External links
Edit
Ad blocker interference detected!
Wikia is a free-to-use site that makes money from advertising. We have a modified experience for viewers using ad blockers

Wikia is not accessible if you've made further modifications. Remove the custom ad blocker rule(s) and the page will load as expected.