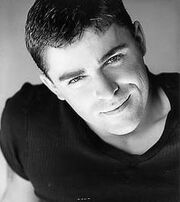 Kavan Smith (b. May 6, 1970) is a Canadian actor who has appeared in the TV series Rogue, When Calls the Heart, Eureka, Stargate, and The 4400.
In Supernatural, he portrayed a civilian who was murdered by Doc Benton in Season 3 "Time Is On My Side", as well as Cuthbert Sinclair in Season 9's "Blade Runners" and Season 10's "The Werther Project."
Smith also co-stars with Felicia Day in the SyFy film adaption Red: Werewolf Hunter, which tells the modern dark story of Red Riding Hood.
External links
Edit
Ad blocker interference detected!
Wikia is a free-to-use site that makes money from advertising. We have a modified experience for viewers using ad blockers

Wikia is not accessible if you've made further modifications. Remove the custom ad blocker rule(s) and the page will load as expected.