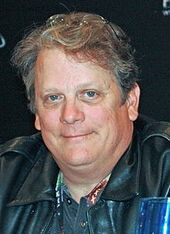 Keith Szarabajka (b. December 2, 1952) is an American actor and voice artist.
His many roles include Mickey Kostmayer in The Equalizer, Daniel Holtz in Angel, and Gerald Stephens in The Dark Knight. He has also appeared in Castle, Law & Order, Babylon 5, Star Trek: Voyager, and The X-Files.
His known voice actings are Azrael from Darksiders, Joshua Graham from Fallout: New Vegas, Crowfather, Wicked K and Jamaerah from Darksiders II, Venom from Spider-Man: Web of Shadows, Cornelius Slate from Bioshock Infinite.
In Supernatural, Keith portrayed prophet Donatello Redfield for three episodes in Season 11 and Season 13. He also portrayed Prince of Hell Asmodeus for one episode.
Appearances
Edit
He also appeared in two similar monster-of-the-week style TV series, Angel and Charmed. John Rubinstein and Harry Groener also appeared in all three (though in Harry Groener's case, he appeared in Buffy the Vampire Slayer, which is set in the same universe as Angel). Many other actors from Buffy the Vampire Slayer or Angel have worked in Supernatural, most notably Jeffrey Dean Morgan, Ridge Canipe, Rob Benedict, Chad Lindberg, Amber Benson, Julie Benz, Amy Acker, James Marsters, Charisma Carpenter and Felicia Day.