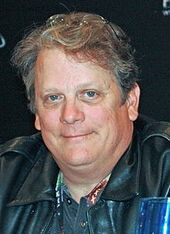 Keith Szarabajka (b. December 2, 1952) is an American actor and voice artist.
His many roles include Mickey Kostmayer in The Equalizer, Daniel Holtz in Angel, and Gerald Stephens in The Dark Knight. He has also appeared in Castle, Law & Order, Babylon 5, Stark Trek: Voyager, and The X-Files.
His known voice actings are Azrael from Darksiders, Joshua Graham from Fallout: New Vegas, Crowfather, Wicked K and Jamaerah from Darksiders II, Venom from Spider-Man: Web of Shadows, Cornelius Slate from Bioshock Infinite.
In Supernatural, Keith portrayed prophet Donatello Redfield for two episodes in Season 11 and he will reprise his role in season 13.
He also appeared in two similar monster-of-the-week style TV series, Angel and Charmed. John Rubinstein and Harry Groener also appeared in all three (though in Harry Groener's case, he appeared in Buffy the Vampire Slayer, which is set in the same universe as Angel).
Ad blocker interference detected!
Wikia is a free-to-use site that makes money from advertising. We have a modified experience for viewers using ad blockers

Wikia is not accessible if you've made further modifications. Remove the custom ad blocker rule(s) and the page will load as expected.