Kett Turton (b. April 4, 1982) formerly Birkett Kealy Turton, is the actor who portrayed Max Jaffey and Alton Morehead in Supernatural.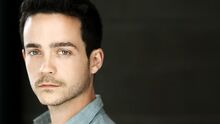 Kett was born in Portland, Oregon and raised in Vancouver, Canada. He started acting in local theater when he was only 4. He performed in several plays before starring in the independent Canadian film Rollercoaster and received a nomination for a Leo Award. His television appearances include Millennium, The X-Files, So Weird and The Net.
Kett currently divides his time between Vancouver and Los Angeles. When not working, he enjoys writing, reading poetry, and seeing movies.
When Kett was 24, he moved to London to study acting for 3 years at RADA. Upon graduating, he also makes television and theater appearances in the UK as well in the US.
Ad blocker interference detected!
Wikia is a free-to-use site that makes money from advertising. We have a modified experience for viewers using ad blockers

Wikia is not accessible if you've made further modifications. Remove the custom ad blocker rule(s) and the page will load as expected.