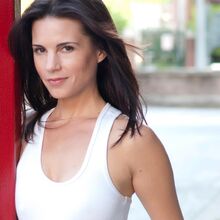 Leah Cairns (b. June 2, 1974) is an actress.
Background
Edit
Leah was born in North Vancouver, British Columbia, Canada. She is known for her roles in Interstellar, 88 Minutes and Battlestar Galactica. She has been married to Kevin Hawryluk since 2004.
Leah's hobbies include scuba diving, rock climbing, horseback riding, skiing and salsa dancing. Her younger sister, Lindsay, was a model. Her mother works with mentally challenged seniors and her father is a salesman.
Supernatural
Edit
Leah portrayed Julie Hudson in the season 2 episode Crossroad Blues.
Ad blocker interference detected!
Wikia is a free-to-use site that makes money from advertising. We have a modified experience for viewers using ad blockers

Wikia is not accessible if you've made further modifications. Remove the custom ad blocker rule(s) and the page will load as expected.