Lilith
Talk

177
1,660pages on
this wiki
"There are about 600 possible seals and Lilith only has to break 66 of them, and no one knows which she's gonna break. That's why it's nearly impossible to stop her. And that's why the angels are losing. That's why we're all gonna die."
—Anna describing Lilith's capabilities.
Lilith was the first demon Lucifer created and thus the final one of the 66 Seals that had to be broken for him to be freed from his cage. She was trapped in Hell until "All Hell Breaks Loose - Part 2", at which point she took over the deceased Azazel's role as leader of the forces of Hell. She led the forces of Hell in the War of the Seals against the angels. She broke the sixty-six seals to Lucifer's cage in Season 4, ending with her allowing Sam Winchester to kill her and freeing Lucifer in "Lucifer Rising".
Background
Edit
Lilith began life as a human who lived thousands of years before the time Supernatural is set. Jealous of God's love for humans, the archangel Lucifer "twisted and tempted" her soul as an act of retaliation, turning her into the first demon—Lilith. Lucifer was cast into a cage as punishment.
At some point prior to 1972, Lilith herself became trapped "neck-deep" in Hell, rendering her unable to escape on her own. It is unknown who or what imprisoned her. Lucifer informed Azazel that she was necessary to free him. Tasked with freeing her, Azazel acquired The Colt and manipulated Jake Talley into using it to open a Devil's Gate in "All Hell Breaks Loose - Part 2". Lilith was among those who escaped Hell through the Gate.
With Azazel dead at Dean's hands, it fell to Lilith to carry on the duty of freeing Lucifer from his cage. She filled in the power vacuum he left by acting as Hell's de facto leader during this time, with Crowley as her right-hand man and possible lover. She also had a lieutenant named Merrick, a chef who prepared human babies for Lilith to eat, and a group of subservant demons who surrounded her at all times.
Lilith secretly concocted a plan with Ruby: while feigning a desire to help humans and kill Lilith, Ruby protected and corrupted Lucifer's future vessel, Sam Winchester, while Lilith herself broke the 66 Seals. Lilith ordered her subordinates to kill Sam as a ruse to force him to rely more upon Ruby, though she claimed it was because she didn't want the "competition" (as Sam was believed to be Azazel's intended successor as Hell's leader).
Around the time of "Dream a Little Dream of Me", Lilith contacted Bela Talbot and coerced her into stealing the Colt back from the Winchesters by promising to release her from her contract. Once Bela succeeded, Lilith had Crowley obtain the Colt and then change the terms of their deal by demanding Bela also kill Sam; this was evidently just to toy with Bela, as Lilith had no reason to want Sam dead at the time. In "Time Is On My Side", Bela told Dean that Lilith held their contracts in the hopes that he would kill her, shortly before her own implied death. This compelled the Winchesters to begin hunting Lilith so that they could kill her and break Dean's contract.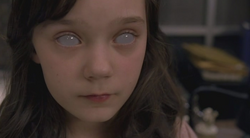 When Lilith learned that Bela had arranged for the Winchesters to be taken in by the police, she arrived at the police station and politely inquired as to the brothers' whereabouts from Nancy Fitzgerald (describing Sam as "really tall" and Dean as "really cute"). When Nancy asked for her name, she revealed her demonic identity, blew up the building, and tortured all the humans who had remained behind the police station for forty-five minutes, including skinning the screaming Nancy alive and forcing everyone else to watch. She killed FBI Agent Victor Henricksen last.
While waiting for Dean to die, Lilith entertained herself by tormenting the Freemont family of New Harmony, Indiana, while possessing their young daughter. She held them hostage, forcing them to do whatever she wanted (such as throwing her birthday parties everyday and having them read the same story to her over twenty-six times in a row) without cease or acting as though their daughter was acting any differently. Lilith randomly killed whomever she decided she no longer "liked," including the grandfather after he tried to beg their neighbors for help as well as a pet named Freckles and a babysitter who were both "mean" to her.
After Sam and Dean located her with Bobby Singer's help, they arrived to confront Lilith, but she abandoned her child vessel and met up with Ruby, who had accompanied the boys. She took control over Ruby's host and rejoined the hunters while pretending to be Ruby. Lilith told Sam it was too late to save Dean when he begged her for help. A hellhound came to kill Dean and the group barricaded themselves in. When Lilith tried to trick Sam into giving her the Demon-killing knife, Dean realized a second before his brother gave in that it was Lilith and not Ruby, but she immobilized both hunters before they could attack her. Having wanted to meet Sam for "a long time," she forcibly kissed him, noting that his lips were soft. Lilith rejected his offer to let her have him in exchange for his brother's life, because he didn't have anything she wanted. Dean then tried to goad her into revealing her plan, but she opened the doors to let the hellhound in, laughing at Dean's painful demise and Sam's anguish. She then tried to use her White Light on Sam, only for it to have no effect, much to her and Sam's surprise. She quickly fled when he picked up the demon-killing knife and advanced on her with intent to kill her.
According to Ruby, Lilith returned to Hell and punished her heavily for her treachery. She agreed to give Ruby another chance by sending Ruby back to Earth to kill Sam. As Ruby was later revealed to be working for Lilith the whole time, however, it is likely that Ruby was lying about this to gain Sam's trust.
Dean unknowingly broke the first seal three months after his death, enabling Lilith to begin breaking the rest of the seals. Angels returned to Earth for the first time in two thousand years to stop Lilith from unleashing Lucifer, and they were aided by the Winchesters and their allies; however, as Anna Milton explained, there too many and no one knew which one she would target. By "Criss Angel Is A Douchebag", Lilith had already broken thirty-four seals.
Dean hallucinated that Lilith was in the room with him while he was inflicted with ghost sickness that ramped up its victims' feelings of fear and anxiety until they literally scared themselves to death. In this hallucination, Lilith cheerfully hugged Dean, exclaiming that she'd missed him, before taunting him about returning to Hell. She reminded him of his time in Hell, and tried to make him suffer a heart attack, narrowly failing when Sam and Bobby vanquished the ghost that'd infected Dean.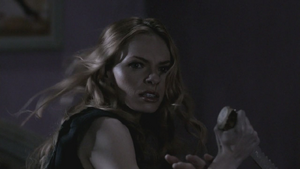 Lilith faltered when she learned that her death was needed as the final seal. She possessed a dental hygienist from Bloomington, Indiana, and went to negotiate a peace-offering to Sam, offering to stop breaking seals if Sam agreed to sacrifice himself and Dean as her "consolation prize." Sam hesitated but seemingly relented under Lilith's manipulations. She claimed that their deal had to be consummated by sex rather than a kiss (as typical with crossroad demons), assuring Sam that the woman she was possessing "wanted it bad." Sam pretended to go along with it to get close enough to her to stab her with the demon-killing knife when she pulled him down on top of her. She overpowered him and seized the knife, but was forced to leave when the prophet Chuck Shurley's entrance into the room started to summon Raphael to kill her and protect Chuck.
Lilith was the last seal to be broken. She and her subordinates traveled to St. Mary's Convent, killed the security guard patrolling there, and began preparing for her death. Upon noticing that one of her minions was frightened, Lilith reassured him that they were going to "save the world." When she saw that Sam had killed her subordinates, she tried to barricade herself in by shutting the door. When he forced his way in and pinned Lilith to the altar, she challenged him to give her his best shot. Although she found it painful, however, she survived his initial attack. He continued to try to kill her without success before becoming distracted by the sound of his brother (sent by Castiel and warned about the consequences of Lilith's death) calling out to him through the doors Ruby had telekinetically locked. Lilith started laughing, drawing Sam's attention. She taunted him about how "adorable" it was that he hesitated now despite having already turned himself into a freakish monster, baiting him into using his full power on her. She eventually succumbed and died. With her death, the final seal broke and Lucifer manifested from a symbol formed by blood from her host's corpse.
Appearance
Edit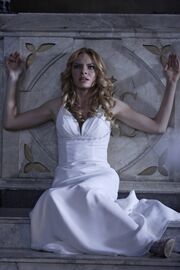 Dean: Wait, wait, wait, wait. Lilith is a little girl.
Chuck: No, uh, this time she's a "comely dental hygienist from Bloomington, Indiana."
As a demon, Lilith manifested on Earth as a thick cloud of black smoke that possesses vessels. Ordinary humans could not perceive her true nature. When Dean glimpsed it in "No Rest for the Wicked", he described her true face as "awful". He could not immediately tell her apart from Ruby despite his temporary ability to see the faces of demons, which suggests that she and Ruby look similar enough to pass for one another (at least to humans).
Lilith preferred to possess blonde females. She primarily possessed young girls in Season 3: a brunette child and the blonde-haired Freemont child. Dean later hallucinated her as the latter in "Yellow Fever". When she possessed Ruby's host, she noted that she liked being "all grown-up and pretty". She possessed another beautiful adult woman throughout Season 4. The hosts exhibited milky-white eyes when Lilith wanted to reveal her true nature.
Personality
Edit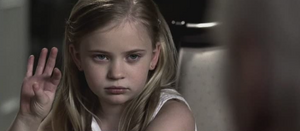 "The good old days. When it was all baby blood, all the time."
—Lilith to Sam.
Lilith often feigned a childish, sweet disposition to hide how truly evil she was. As part of this act, she treated even her victims with friendliness. If provoked, however, she dropped this and became so cold she appeared almost emotionless. She switched between these two behaviors very quickly to unsettle those who witnessed it. She played on the expectations people had associated with her vessels' appearances, acting innocent in children hosts and seductively in adult hosts. She successfully impersonated Ruby for a short time before Dean caught on to the swap by noticing the difference in the two demons' "faces". She was also intelligent and cruel enough to choose to summon Witnesses whom hunters had tried and failed to save, correctly predicting that the ghost's anger and the hunters' guilt would likely make it more difficult for them to fight back and resulted in their deaths; Castiel described this as Lilith's sense of humor.
Even by most demons standards, Lilith was incredibly sadistic, finding it fun and relaxing to inflict suffering onto others. She also adored psychological torture as well as physical as she relished in Sam's anguish by laughing as he had to watch as his brother slaughtered. She tortured seven people to death by flaying them alive while forcing those still alive to watch, saving Henrikson for last because he shares Dean's desire to save people. She also toyed with the family of a girl she was possessing by terrorizing them and ruthlessly killing anyone who angered her, causing them to become desperate enough to escape her wrath that they were willing to betray one another and even kill the girl. She also frequently fed on new born infants and had her "personal chef" provide her with regular supplies. Lilith seemed to be very popular amongst demons as Ruby described her as "a real pied piper" and she possessed her own personal entourage of demons. All of Lilith's subordinates seemed to either fear or revere her. At least two demons refused to give up any information on her to Sam and Dean even under torture because they feared how she'd punish them, believing that any torture Sam or Dean could devise would be "a flea bite" compared to Lilith's methods. Ruby also claimed that if Sam and Dean had faced her then she would "peel the meat from their pretty pretty faces." Lilith detested angels and found dealing with them irritating; Alastair claimed she'd kill "a hundred, a thousand" of them if she could. 
Lilith was an exceptional strategist who outplayed angel "grunts" in the battle over the 66 Seals by being unpredictable in her tactics, at one point breaking three seals in one day. She masterminded the actions of her underlings without revealing her hand in their actions. Lilith knew how to play with people's emotions in order to manipulate them. Lilith also knew how to inspire fear in people, such as slaughtering the family dog and casually walking in on her hosts family covered in blood. 
Lilith cared more about The Apocalypse that Lucifer's rise would incite (specifically the destruction and suffering it would bring) than Lucifer himself, and was disappointed that she would have to die and miss all of it in order to trigger it. Although she wanted to let him "rot" in his cage and return to enjoying herself and torturing others as she had before breaking the seals, she resigned herself to her fate and even provoked Sam into killing her in the end by laughing at him.
Powers and Abilities
Edit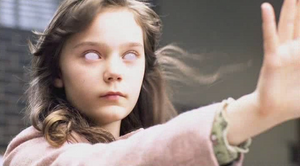 As Lucifer's first, Lilith was the oldest demon and thus among the most powerful to appear in the series. According to the creator of Supernatural, she out-ranked even fellow white-eyed demons and Azazel in the hierarchy of Hell, with only Lucifer himself as her superior. It is unknown if she was more powerful than Azazel, however. Lilith commanded great respect from other demons, including Alastair, as well as being feared by most of them. Astaroth described Lilith as the demons' "messiah" and saw her as "a real leader" (compared to Sam). According to Bela, Lilith held the contracts to all crossroads deals when she was in power. She could also make her own deals, but claimed to be unique from other deal-making demons in that sealing the deal with her required sex rather than a kiss. She seemed unafraid of normal angels, even winning battles against them for the seals, but Lilith did fear the power of archangels and fled from their presence. She was described by Lucifer as having the capability to break most of the numerous seals, which required various rituals and spells, to open the fallen archangel's cage. Both angels and demons alike mentioned such capability of hers. 
White Light - By raising her hand, Lilith could generate a blast of white light from the palm that apparently destroyed anything she wanted it to. For example, she blew apart an entire police station without killing the people inside, and later performed the reverse by concentrating it solely on Sam so that it did not affect the house she was in at the time. She was also able to control its intensity to use only a very small amount to destroy a devil's trap. Along with Samhain, she was one of the only two demons known to have this ability. Other beings who possessed white light were considerably more powerful angelic beings.
Telekinesis - Lilith broke a grown man's neck without touching it, and later used telekinesis to fling Sam and Dean across the room, holding Sam immobilized to a wall at the same time she did the same to Dean to a table.
Possession - Lilith took over the bodies of human beings against their will. Unlike most other demons, who usually enter and exit humans' bodies in a rush of black smoke as the humans scream, Lilith apparently could also do this without humans noticing, as the Freemont girl's mother did not realize that her daughter was no longer possessed (although it is possible that the mother simply did not see Lilith leave).
Exorcism (Possibly)- Lilith claimed to have expelled Ruby from her vessel in "No Rest for the Wicked". Ruby claimed in "I Know What You Did Last Summer" that she had been imprisoned in Hell by Lilith, and that Lilith had eventually released her once Ruby promised to find and kill Sam for her. As Ruby had been working undercover for Lilith all along, it is unknown whether or not they were telling the truth.
Invulnerability - Lilith could not be harmed or killed by conventional means. When possessing Ruby's vessel, she did not die from the injuries sustained by the vessel (including a gunshot wound to the chest).
Flight - In her disembodied smoke state, Lilith could fly.
Spell-casting - Lilith is named by Castiel as the one who raised the Witnesses in "Are You There, God? It's Me, Dean Winchester". She was able to select specific ghosts to summon and compel to attack the hunters she chose. It is likely that she performed other spells to break the other 66 Seals.
Teleportation - In "The Monster at the End of This Book", Lilith appeared suddenly behind Sam inside the brothers' motel room after knocking on the door and waiting for him to answer it. She surprised a guard at St. Mary's Convent in "Lucifer Rising" by showing up out of nowhere from behind him.
Immunity - Lilith could enter Churches and Ruby claimed that she was not vulnerable to Holy Water. Lilith proved to be the most resilient to Sam's demonic powers of all the demons he used them on, even with him at the peak of his power and her powers useless against him. After he had grown strong enough to incapacitate and kill Alastair with them, his powers merely stirred Lilith's hair. Sam trained for a year by honing his powers on lesser demons and drinking Demon Blood in order to kill Lilith. When he finally succeeded in "Lucifer Rising", it required all the blood of one demon, more blood from another, immense effort from him, and Lilith intentionally provoking him to anger, nearly transforming him into a monster in the process. The effort of killing Lilith also exhausted Sam's powers completely.
Super strength - As the first demon, Lilith was stronger than humans, demons and certain angels. When Lilith got involved in a physical struggle with Sam, she quickly overpowered him, despite his having the advantage of position (she was lying down beneath him) and weight (his body was much larger and muscled than her vessel).
Immortality - Lilith was the first and eldest demon, predating even the Knights of Hell. Lilith was at least two thousand years old, and had the potential to live indefinitely had she not been killed.
Weaknesses
Edit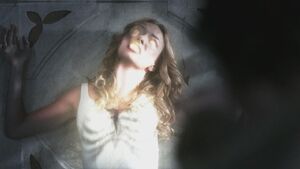 Demon-killing knife - Although it is doubtful that she could be fatally wounded by the knife, Lilith showed extreme wariness of it: she fled when Sam went to stab her with it in "No Rest For The Wicked", she demanded to know where it was when she visited him in "The Monster at the End of This Book", and she quickly wrestled it from him when he again tried to stab her with it.
Sam Winchester - Although Lilith was able to telekinetically immobilize Sam when she first met him in "No Rest for the Wicked", her powers soon stopped working on him entirely, much to her surprise and anger. By "Lucifer Rising", Lilith was unable to defend herself against Sam's increased power; he telekinetically threw, immobilized, and eventually killed her in a way that Lilith evidently found excrutiatingly painful.
Archangels - Lilith could be smote by archangels. When Raphael began descending upon her to protect Chuck in "The Monster at the End of This Book", she elected to flee.
Relationships
Edit
Apocrypha
Edit
The Titanic. Yes, well, uh, it was meant to sink, and I saved it.
This article or section is about a canonical subject but contains information from sources (novels, animated series or comics) that are either not canon or are dubiously canon.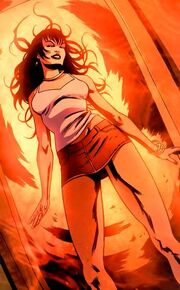 In 1990, Lilith escaped Hell and masqueraded as an elementary school teacher named Susan Lyle in Albuquerque, New Mexico. She endeared herself to her young student Sam, aware that Sam had a special destiny of some importance to the forces of Hell. Dean was the first to realize she was a demon. His and Sam's father, John, fought with her as well as a transmogrified construct near the railroad tracks. Around this time, Lilith led a special army of demons called the succubi.
Lilith is the third demon of lore to appear in the show: the first was Azazel and the second was Astaroth.
Originally, the writers did not know who the main antagonist to replace Azazel would be. They gave the character the nickname "Zarqawi" as a reference to the real-life terrorist (the demon war in Season 3 first being planned as a reflection on real-life terrorism and war) and planned for the character to be male, but Sera Gamble insisted it be female and suggested Lilith be the new Big Bad.
The writers debated whether Lilith should be presented in the form of a woman or a little girl. Although they initially settled on the latter for Season 3 because they found it creepier, they had her possess adults in her later appearances.
The mythological Lilith is commonly portrayed as either a seducer of men or the destroyer of children. The character of Lilith in Supernatural is meant to represent both aspects of that mythology, according to an interview with Kripke.
Kripke also stated that Lilith outranked even Azazel in the demonic hierarchy.
Lilith's sexualized interactions with Sam references Lilith's marriage to the fallen angel Samael in real-world mythology.
Unlike other demons, Lilith emitted a white glow during her death, as opposed to the usual red-orange glow.
Sam said that if he could wish anything, he would wish for her head to be on a plate, bloody. 
List of appearances
Edit