Lindsey
Season(s)
2
Species
Human
Status
Alive
Portrayed by:
Leela Savasta

Lindsey was Angela Mason's roommate and a minor character in Season 2.
Background
Edit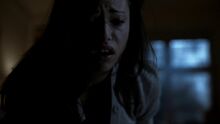 Lindsey was a friend of
Angela
and a roommate to her . But she slept with
Matt Harrison
behind Angela's back but Angela walked in and saw them in bed together. When Dean came to her house she told him Angela was a great roommate. After Angela killed Matt Harrison She went to Lindsey. Lindsey was looking at a photo of Matt. When she heard a noise and went to check it out. When she walked to her door and looked out side she saw nothing. She thought it was nothing. She turned around and Angela grabbed her. Lindsey the broke free and tried to run. When Angela chased her she grabbed a pair of scissors. She then went after Lindsey. She took to swings and missed. Lindsey then kicked Angelas leg. She fell to the floor and the scissors went through her chest. Lindsey then flipped over Angelas body and started to freak out. She thought she killed her. But when Angelas eyes open she realize she is still alive. Before she could stand up and run away Angela grabbed her hair and stood up and pulled the scissors and was going to stab her. Right before she did
Sam and Dean
shot her in the back and then in the Head. She jumps out of the window. Dean chases after her and Sam runs to see if Lindsey was ok.