Mamma Mia is the 2nd episode of Season 12. It aired on October 20th, 2016.
Dean, Castiel and Mary have a lead on Sam and set out to rescue him. Dean is uncomfortable with putting Mary in danger but she insists on going along. Meanwhile, Crowley is tipped off that Lucifer has taken over the body of rock star Vince Vincente (special guest star Rick Springfield).
TBA.
Characters
Edit
Main Cast
Edit
Recurring Cast
Edit
Special Guest Stars
Edit
Guest Stars
Edit
Featured Supernatural Beings
Edit
The episode was watched by 1.61 million viewers and got a 0.6 rating.
"Mamma Mia" is the name of a 1970s hit song from the Swedish pop group ABBA. It is also the name of a musical featuring their songs.
This episode is the fifth episode of Supernatural to not include any deaths. Previous episodes with that distinction include: The Monster at the End of This Book, When the Levee Breaks, Inside Man and Alpha and Omega.
This is the first time Lucifer has shown his wings.
There's also an easter egg in the episode.

In the set decoration of Vince Vincente's hotel we can see lyrics of John Lennon's "Imagine". In response to the June 12th 2016 [Orlando nightclub shooting], Jerry Wanek placed lyrics from John Lennon's song "Imagine" in the set decoration of Vince Vincente's hotel. After the episode aired, Wanek tweeted "Thought we needed serenity after Orlando tragedy."

Vince's room number is 909.
Lucifer previously appeared in We Happy Few.
Lucifer approaches Vince the same way he approached his first vessel, Nick, by causing visions of blood, then taking on the guise of Vince's deceased lover, dressed in the deceased lover's nightgown.
Vince Vincente's aging rock band was appearing in Cleveland. This could be a reference to Spinal Tap, an aging rock band who started their stage show with "Hello Cleveland!" at every city they played. Except Cleveland.
The whole "pie" scene was not originally scripted. It was something that Jensen Ackles and Jared Padalecki came up with and ran by the producer and director. Most of what we see was improvised by them and Samantha Smith.
"
Mick: I reckon you could finish me off without breaking a sweat. Am I right?

Castiel: I don't sweat under any circumstances.

"
"
I can't believe I'm once again down some dank hole seeking the Devil! When does it end? It's exactly why I am retiring to Boca Raton.
"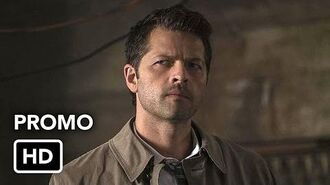 Ad blocker interference detected!
Wikia is a free-to-use site that makes money from advertising. We have a modified experience for viewers using ad blockers

Wikia is not accessible if you've made further modifications. Remove the custom ad blocker rule(s) and the page will load as expected.