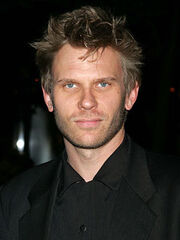 Mark Ross Pellegrino (b. April 9, 1965) is an American actor who portrayed Nick, Lucifer, and Sam's Lucifer-hallucination in Supernatural. He has been in eleven episodes.
Pellegrino has appeared in episodes of The Beast, NYPD Blue, Without a Trace, Dexter, Grimm, Prison Break, CSI: Crime Scene Investigation, The Mentalist,  Burn Notice, and Lost. He has also played a minor role in the film The Number 23 where he played a prisoner who showed disgust at the thought he could be linked to someone who used the pseudonym "Top Secrets." He also had a part in the Americanized version of the UK supernatural drama Being Human as the leader of the Boston vampire group Bishop.  
One of his most recent television roles was Dr. Jedikiah Price, on the The Tomorrow People, which was ultimately canceled. He is currently working on Quantico as Clayton Haas.
Mark is married to Tracy Aziz and stepfather of her daughter Tess. Mark is also an atheist.
According to Supernatural creator, Eric Kripke, Mark did not require auditioning for the role of Lucifer.

Previously, Mark had auditioned for the role of Castiel, but this was given to Misha Collins.

Mark has not watched Supernatural or any of his other television roles, instead he lets his wife Tracy review them. Recently, Mark stated that he will begin watching them.
Appearances
Edit
External Link
Edit