Mary Winchester has a grave erected for her in Greenville, Illinois.
In "Children Shouldn't Play With Dead Things", Dean reveals that Mary's uncle put up a grave for Mary shortly after her death. There is no body buried underneath.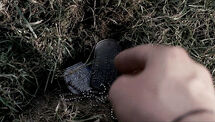 Sam
initially wants to pay his respects, but Dean is reluctant to allow him.
In "Alpha and Omega", Dean and Sam visit Mary's grave, presumably the same one, to pay their respects in case the world ends, and Dean's mission fails. Dean had hoped to be interred next to her.
The purpose of this grave ends when Mary herself is resurrected by Amara.
Appearances 
Edit
Mary's unnamed uncle is only mentioned once. He was presumably killed by Azazel, as many close relatives were targeted after Mary's death.
Ad blocker interference detected!
Wikia is a free-to-use site that makes money from advertising. We have a modified experience for viewers using ad blockers

Wikia is not accessible if you've made further modifications. Remove the custom ad blocker rule(s) and the page will load as expected.