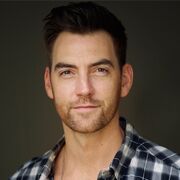 Matthew Kevin Anderson is a Canadian actor who has starred in Tomorrowland, Odd Brodsky, and Trick 'r Treat, as well as in TV's Impastor, iZombie and The Killing, among others. In Supernatural he portrayed Deputy Karl Henry in the Season 8 episode "Southern Comfort".
External links
Edit
Ad blocker interference detected!
Wikia is a free-to-use site that makes money from advertising. We have a modified experience for viewers using ad blockers

Wikia is not accessible if you've made further modifications. Remove the custom ad blocker rule(s) and the page will load as expected.