Marie-Charms Mishael Morgan (born July 15, 1986) known professionally as Mishael Morgan, is a Canadian actress known for the role of Hilary Curtis on CBS Daytime soap opera, The Young and the Restless. She portrayed the familiar Portia in Man's Best Friend With Benefits.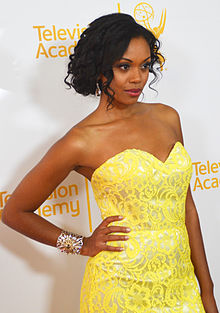 Marie-Charms Mishael Morgan was born in San Fernando, Trinidad on July 15, 1986. Morgan is the daughter of Michael and Sharon (Lee) Morgan; she has an older sister, Maggris and a younger sister, Monique. When Morgan was 5 years old, her parents relocated the family to New York where Michael found work. However, thinking it would be safer, the family relocated to Toronto, Canada and settled in Mississauga.
She attended York University in Toronto, and later began her career on television.
From 2008 to 2009 she had a recurring role in the Canadian teen drama series The Best Years, and later was regular cast member ofYTV sitcom, Family Biz. In 2012 she had a recurring role in the CBC Television comedy-drama Republic of Doyle, and also appeared in small roles in films Casino Jack (2010) and Total Recall (2012).
In 2013, Morgan was cast as Hilary Curtis in the CBS daytime soap opera, The Young and the Restless. In same year she guest-starred on Supernatural and The Listener. In 2014, Morgan also starred in The CW summer comedy series, Backpackers.
Ad blocker interference detected!
Wikia is a free-to-use site that makes money from advertising. We have a modified experience for viewers using ad blockers

Wikia is not accessible if you've made further modifications. Remove the custom ad blocker rule(s) and the page will load as expected.