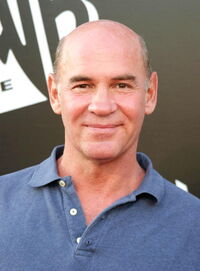 Mitch Pileggi (b. 1952) is an American actor who is well known for playing the character Assistant Director Walter Skinner on the cult TV series The X-Files, the films based on the series, and the short-lived X-Files spin-off, The Lone Gunmen, but who has also appeared in episodes of Dallas, Tarzan, The Mountain, Day Break, and Stargate Atlantis, as well as the movie Man in the Chair. On Supernatural, Pileggi played the character Samuel Campbell, Azazel and the Alpha Shapeshifter. He also starred in the hit FX TV show Sons of Anarchy as Ernest Darby.
External links
Edit
Ad blocker interference detected!
Wikia is a free-to-use site that makes money from advertising. We have a modified experience for viewers using ad blockers

Wikia is not accessible if you've made further modifications. Remove the custom ad blocker rule(s) and the page will load as expected.