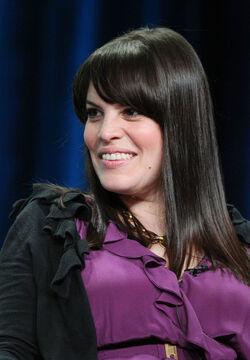 "
I don't think my experiences as a female writer influence what I choose to write about. But I write with a male partner and I am definitely sensitive to how women are portrayed in our scripts.
"

— Nicole Snyder
Nicole Snyder was a writer who joined Supernatural in Season 6. Her writing partner is Eric Charmelo, both of whom later departed to develop the CW's Ringer. Following Ringer's cancellation Snyder and Charmelo returned to their writing positions on Supernatural in Season 9 with the addition of becoming co-executive producers. With the end of Season 11, Charmelo and Snyder took their leave of Supernatural once more.
Snyder has written for the series Love You To Death, and the movie Confessions of Sociopathic Social Climber.
"
My biggest source of inspiration is probably novels and TV. It used to be movies as well, but I have two children and my trips to the theater are more limited. I'm a voracious reader. I read every night before bed and a good book always sinks in and influences my writing. And when I watch a good TV show, it inspires me to live up to the creativity and talent I admire.
"

— Nicole Snyder on her inspiration for work

[1]
References
Edit
External Link
Edit