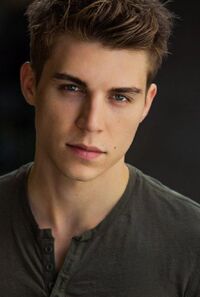 Nolan Gerard Funk is a Canadian actor. He was born on July 28, 1986 in Vancouver, British Columbia.
Nolan Gerard Funk is best known for Glee, X-Men, and House at the End of the Street. 
On Supernatural, he portrayed Jake Tanner in the Season 2 episode "Croatoan", while Jake's brother Duane was portrayed by Diego Klattenhoff. The two actors also had portrayed two brothers in the season 4 episode Krypto of the CW series Smallville.
External links
Edit
Ad blocker interference detected!
Wikia is a free-to-use site that makes money from advertising. We have a modified experience for viewers using ad blockers

Wikia is not accessible if you've made further modifications. Remove the custom ad blocker rule(s) and the page will load as expected.