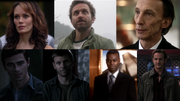 Primordial entities refer to a group of nigh-omnipotent beings who already existed before the creation of the universe. The strongest of them made the universe and everything in it such as God; watch over the natural order and begin and end with all things like Death, they can manipulate the fabric of the universe or even destroy it, like the Darkness.
Characteristics
Edit
All of them are older than the universe and possess immense power, ranging from at least destroying someone on a subatomic level (Raphael) and altering the very fabric of reality (Gabriel) up to fully removing all of existence (The Darkness) or creating whole universes (God). Despite their immense power and agelessness, none are unkillable since even Death, God, and Amara, being called the strongest beings can be killed under the right conditions. Death was destroyed, despite being an entity so powerful he saw humans no more powerful or important than how humans view bacterium. Like all things, even the Primordials are to certain degrees subject to the flow of the Natural Order.
Gabriel was the first primordial entity the Winchester brothers encountered. Notably, Gabriel is the youngest and least powerful primordial entity, while the oldest and most powerful one, the Darkness, is the last one they met.
With the exception of Death, all the known Primordials are related. God and Amara are siblings and all the Archangels are God's children and Amara's nephews.
The Darkness, also called Amara, is arguably the only female primordial entity, and also the oldest.
Ad blocker interference detected!
Wikia is a free-to-use site that makes money from advertising. We have a modified experience for viewers using ad blockers

Wikia is not accessible if you've made further modifications. Remove the custom ad blocker rule(s) and the page will load as expected.