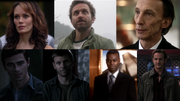 Primordial Entities refer to a group of nigh-omnipotent beings who existed before the creation of the Universe.
Characteristics
All of them are older than the universe and possess immense power, ranging from at least destroying someone on a subatomic level (Raphael) and altering the very fabric of reality (Gabriel) up to fully removing all of existence (The Darkness) or creating whole universes (God). Despite their immense power and agelessness, none are unkillable since even Death, God, and Amara, being called the strongest beings can be killed under the right conditions. Death was destroyed, despite being an entity so powerful he saw humans no more powerful or important than how humans view bacterium. Like all things, even the Primordials are to certain degrees subject to the flow of the Natural Order.
Members
Appearances
Trivia
Gabriel was the first primordial entity the Winchester brothers encountered. Notably, Gabriel is the youngest primordial entity, while the oldest and most powerful one, the Darkness, is the last one they met.
Lucifer was the first primordial that the Winchesters knowingly encountered, since both Gabriel and God hid their identities from them.
Due to the Winchesters traveling back in time, chronologically Michael was the first primordial and angel to meet the Winchesters, having met them before they were born in the timeline. [1]
With the exception of Death, all the known Primordials are related. God and Amara are siblings and all the Archangels are God's children and Amara's nephews.
The Darkness, also called Amara, is the only female primordial entity.
Since the introduction of Gabriel, Season 8 is the only season to not feature a Primordial Entity.
Season 5 featured the most Primordial Entities in a single season, with the appearances of all four Archangels, God, and Death.
Aside from Death, all the Primordial Beings appear to be elemental. The Darkness is the primordial darkness, God is the primordial light, and the Archangels which God called the Stuff of Primordial Creation, are spiritual entities of light like the lesser angels.
It is unknown if Death's brothers count as Primordial entities.
In Season 13, the Cosmic Entity is introduced and stated The Empty (its residence) has existed before everything. However, the age of the entity and whether it counts as a primordial entity is unknown.
Lucifer is the most recurring primordial entity.
References