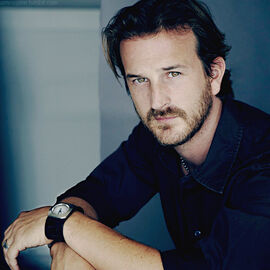 Richard Speight Jr.
(b. September 4, 1970) is an American actor who portrayed the
archangel
Gabriel
on
Supernatural
.
He has also starred in commercials for brands such as Pepsi, Got Milk? and Taco Bell. He also has appeared on Justified, Open Water 2, and Jericho. In the HBO mini-series Band of Brothers, he played Sergeant Warren 'Skip' Muck. He also directed an episode of Supernatural.
Richard is a regular at Supernatural conventions, alongside actors Matt Cohen and Rob Benedict. He and Rob Benedict are also co-writers of the series King of Con (which was canceled after one season).
Appearances
Edit
Rob Benedict, Matt Cohen and Richard are known collectively as R2M.
Richard has known actor Timothy Omundson for more than 20 years.
Richard once got Mark Pellegrino drunk before a convention which led to rather sultry dancing. Richard soon regretted this decision.
Richard said at a convention that he was forced to stand on boxes during scenes with Jared and Jensen because they are much taller than him.
Richard saved Rob when the latter suffered a stroke during a convention in October 2013. Richard rushed Rob to the hospital where the doctors informed them that had they been a few hours late, Rob would have died.
External Links
Edit
Ad blocker interference detected!
Wikia is a free-to-use site that makes money from advertising. We have a modified experience for viewers using ad blockers

Wikia is not accessible if you've made further modifications. Remove the custom ad blocker rule(s) and the page will load as expected.