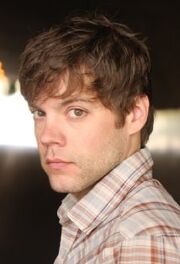 Russell Adam Sams
(b. 05/18/1977) is an American actor that played both
Jeffrey
and an 
Unnamed Demon
in the 
Season 7
 episode
Repo Man
.
Russell Sams is mostly known for his role as Richard "Dick" Jared in the 2002 film The Rules of Attraction which also featured The Vampire Diaries star Ian Somerhalder.
Sams has appeared in movies like Amateurs, Wonderland, Pox and Driftwood.
External Links
Edit
Ad blocker interference detected!
Wikia is a free-to-use site that makes money from advertising. We have a modified experience for viewers using ad blockers

Wikia is not accessible if you've made further modifications. Remove the custom ad blocker rule(s) and the page will load as expected.