Samuel "Sam" William[1] Winchester (born May 2, 1983) is a hunter as well as a Man of Letters, along with his older brother Dean. He is one of the main protagonists of Supernatural. Both Sam and Dean are related to the Winchester and Campbell families - a Letters family and a Hunting family respectively. The pair also share a bloodline with Cain and Abel. Because of this, Sam was predestined to be the true vessel of the fallen archangel Lucifer (whilst Dean was Michael's). Sam is friends with angel Castiel, Prophet Kevin Tran, the demon Meg and former lover-turned-enemy of demon Ruby. He is also the occasional reluctant ally of demon Crowley and for a time was forced to be an unknowing and unwilling vessel for the angel Gadreel (before expelling him).
After the demon Azazel killed their mother, both Sam and Dean were raised in the hunting life by their father John. Sam left the Hunting life to pursue a career in law, and most likely would have married his college sweetheart Jessica Moore. At the series' start, Sam was reluctant to start hunting again. When Jessica was killed, he was pushed back into the hunting life. However, he has been repeatedly known to try and back out of Hunting in the hope of finally having a normal life as he wanted.
Sam is very mentally strong, evidenced by his ability to overpower possession by Lucifer. It has been argued that he is the smarter or more intelligent of the Winchester brothers, although Sam himself would disagree.
Over time, Sam has resigned himself to the hunting lifestyle and has repeatedly sacrificed himself for the greater good, highlighting his selfless nature.
History
Early Life
Samuel "Sam" Winchester was born on May 2, 1983, to John and Mary Winchester in Lawrence, Kansas. He is the couple's second child, four years younger than his older brother Dean. When Sam was exactly six months old, on November 2, 1983, his mother, Mary, was killed in his nursery by the Yellow-Eyed demon, Azazel. Mary walked into Sam's nursery while Azazel was feeding the infant demon blood attempting to turn him into one of the special children. He has developed slight mental trauma due to this day and doesn't like Halloween.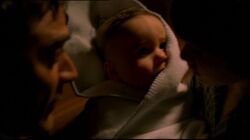 Infant Sam is saved from the ensuing fire when his father takes him out of his crib and gives him to a four year old Dean, who then carries him outside. John unsuccessfully tries to rescue Mary and becomes somewhat emotionally unstable. 
Sam and Dean spent their childhood moving from town to town while their father hunted the supernatural being that had killed their mother. He trains his sons in Hunting and kills anything supernatural he comes across. As soon as able, Sam was left in the care of Dean. However, when Dean grew old enough to go on hunts with John, Sam was left alone.
Sometime in the late 1980s, John was hunting a Shtriga in Fort Douglas, Wisconsin and left Sam and Dean alone in a hotel room. While watching a TV show as Sam slept, Dean got bored and went out. But when he came back, he found the Shtriga feeding on Sam. John arrived quickly, providing the suspicion that he used his children as bait.
Until he turned 8 years old, Sam believed his mother had died in a car accident and his father was a traveling salesman. When he found his father's journal, he demanded that Dean explain. Dean confirmed the existence of the paranormal. When Sam was nine years old, Sam created an imaginary friend named Sully, who unknown to him was a Zanna sent to guide him. Sully was there for Sam when he wasn't allowed on hunts. He attempted to encourage Sam to run away and live his own life, but when John changed his mind and permitted Sam to accompany him and Dean, Sam rejected Sully as a fake, causing his imaginary friend to leave. When Sam was eleven he spent his Thanksgiving with another family. He remembers it fondly as it was (according to Sam) his first actual Thanksgiving; for the other Thanksgivings he and Dean would have a bucket of extra crispy chicken while their dad would pass out on a couch. Sam loved this memory so much that it actually appeared on his road to Heaven, which shows only the happiest and most loved memories of a person's life. Sam started hunting alongside his brother and father around the age of twelve. However, he began to crave a normal life without monsters when a teacher of his, unaware of the whole story, encouraged him to seek alternatives to "the family business." On the 4th of July 1996 Sam and Dean snuck out to a field with fireworks where, according to Dean, they had burned the field down - this is one of Dean's Heaven-Road memories, and, as they share a heaven, also one of Sam's.
Dean frequently left Sam at Plucky Pennywhistle's Magical Menagerie before going to hang out with girls, which is possibly a cause for Sam's fear of clowns. When Sam was about 15, John and Dean left Sam alone to hunt a kitsune while Sam compiled the research for them so they could kill it properly[2]. This is where he met Amy, who, unbeknownst to Sam, was the daughter of the kitsune that John and Dean were hunting. Sam eventually learned his friend was a kitsune but decided to let her go when she had killed her own mother to save his life. Later on, Dean killed her, betraying Sam's wishes and request for him to leave her alone.
At some point Sam ran away to Flagstaff, Arizona while Dean was watching him. He stayed there for 2 weeks and while he was there he took in a dog and called it Bones. Sam eventually went to Stanford University, but was unable to return to his family, as John had forbade him from returning. While there, he had a long-term relationship with Jess. A year after that, their father got closer in looking for the thing that killed their mom, and left Dean to hunt solo. A few years later, John went missing, so Dean fetched Sam from Stanford and they both go looking for him. This is when the series starts.
Season 5
Season 6
Season 7
Season 8
Season 9
Season 10
Season 11
Season 12
Physical Appearance
Sam has shaggy brown hair that grows longer and smoother in later seasons; he had a fringe as a child as well as in the first two seasons. Over the course of the show, he grew the fringe out. His eye color seems to change; sometimes they appear light green, sometimes they appear brown, etc. He is noted by other characters to be handsome. Sam is very tall, 6'4" having a muscular build with broad shoulders and a muscular chest. This is especially ironic considering that he used to be teased for being short and wiry as a teenager. Like Dean, Sam often wears multiple layers of clothing (namely plaid shirts) as well as jeans and boots. Recently in Season 8 of the series, Sam, who is known for always having a clean shaved face, has been sporting some facial stubble similar to Dean.
A cut on the palm of his left hand was sustained during the episode Meet the New Boss. He was taught by Dean to use it as a way to discern hallucination from reality. Although the scar has healed by now, Sam still presses upon his left palm whenever things get too difficult to believe.
In "The Benders", a police file on Sam confirms his eyes are brown.
Personality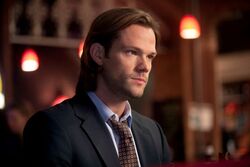 Sam is usually kind, empathetic, intelligent and independent. In the 200th episode, he is described as 'sweet, brave, selfless Sam'. He is often the exasperated voice of reason in his relationship with Dean, who in turn sees him as a geek or prude, and teasingly calls him "bitch". Dean has respect for Sam as a hunter and trusts Sam to "have his six". Sam is repeatedly telling Dean that killing humans is wrong, and does not enjoy the job as much as Dean. He does not seem to drink alcohol as much as Dean does and has a much healthier diet than his brother (Dean scoffs at Sam's diet and calls it "rabbit food"). According to Dean, Sam's blood type is o negative as said in the episode "Red Meat". Sam also has a phobia of clowns, due to his brother often leaving him at Plucky Pennywhistle's Magical Menagerie when they were children. This is not helped by the fact that every time they have encountered a clown in the show, it has tried to kill them. Sam can become a very different person when Dean is dead, as evidenced by his change in Mystery Spot and what is shown in I Know What You Did Last Summer, becoming almost psychotically angry.
Sam has phenomenal mental power. This is most evident in Swan Song, where he is able to mentally overpower possession by Satan himself to stop the apocalypse. Other incidences include My Bloody Valentine, in which Sam is able to resist Famine's temptation and not drink more demon blood, exorcising the demons and killing Famine instead.
Because of his intelligence, Sam is usually assigned the role of researching information for hunts; he is the "brain", whilst Dean is the "muscle". He normally remembers details that Dean overlooks and is prone to make connections quicker than his brother. He also knows a great deal of information that causes Dean to label him a "walking encyclopedia of weirdness". In college, Sam scored a 174 out of 180 on his LSAT, which Jessica noted was "scary good" in the series pilot. In spite of their bickering, Sam has looked up to Dean since they were children and knows him better than anyone else. He tries to get Dean to open up about his emotions and problems, and encourages him to take care of himself; on several occasions, he has even been frustrated by his brother's fixation on placing Sam's well-being above his own. However, Sam shows similar protective tendencies towards Dean, particularly after Dean makes his deal and returns from Hell as a shadow of who he used to be, to the point that Sam's memories of Dean allowed him to regain control of his body while possessed by Lucifer. Sam tends to be driven by feelings of anger and vengeance.
As a teenager and even as a young man, he argued with his father constantly whenever they were together. Sam wanted to live a normal, "apple pie" life instead of continuing to hunt, which led to most of his arguments with John and his estrangement from his family at the beginning of the series. However, Dean once stated that despite his own best efforts to be like John; liking the same music, clothes and cars; being the good son, the soldier and the Hunter; Sam always has been and always will be more like John than Dean is. Sam and John clash and argue so much because they are so similar. Sam does not take this as a compliment, and it is clear that while Dean truly idolized his father, both boys are not always overly fond of their father due to his secrets, mysterious actions, and his strict treatment and upbringing of his sons.
After Jessica's death, Sam became fixated on vengeance, but still held out hope for eventually returning to Stanford. Early in Season 1, Sam was more focused on finding Jessica's killer than he was on following John's instructions on which hunts to take, something that often put him at odds with Dean. He was obsessed with revenge, and was even willing to sacrifice his life to kill Azazel, although he ultimately proved that he valued Dean's life over the demon's death in "Devil's Trap".
After John's death in In My Time of Dying, Sam focused all of his attention on hunting instead of returning to a normal life. He felt guilt for angrily confronting his father in his final moments and for not realizing that he had been planning on sacrificing himself. Sam put all of his energy into doing what he thought John would want him to and kept trying to get Dean to deal with their father's death in a healthy way. After the reveal of John's ultimatum to Dean and the discovery of the other "special children", Sam became terrified that he would somehow turn evil. He made Dean promise to kill him if anything were to happen. Everything came to a head in All Hell Breaks Loose - Part 1, when Azazel placed all of the special children in a death match. Sam was killed (metaphorically and literally stabbed in the back) because he refused to murder another human being, but when Dean brought him back to life by selling his soul, Sam killed his murderer without hesitation. And after finding out Dean had made a demon deal, Sam declared that he would save his brother no matter what.
In Season 3, Sam spent most of his time trying to save Dean from his deal. He became frantically obsessed with doing everything he could to stop Dean from going to Hell - even going so far as to try to convince Dean to turn them both into monsters and harvest organs for their survival in Time Is On My Side. Sam kept struggling to come up with some way to save his brother to the very end, but ultimately wasn't able to. And he was forced to watch helplessly as hellhounds tore Dean apart.
Following Dean's death and condemnation to Hell, Sam became so fixated on avenging his brother and killing Lilith that he almost turned himself into a monster. Due to his grief at Dean's death, the demon Ruby was able to manipulate Sam into a sexual relationship and convinced him to start drinking demon blood, claiming it was the only way he would be able to avenge his brother. Sam drank so much that he became an addict; showing the same symptoms and going through an immensely torturous detox (at the start of season 5, Sam's addiction is gone, but later he has to drink a great deal in order to house Lucifer in his body). Even after Dean returned, Sam was unwilling to let the desire for vengeance go and he continued the affair in secret. Sam was repeatedly warned by Dean and Castiel that he was making mistakes, but he disregarded their advice, believing that he was the only one who could stop Lilith from releasing Lucifer.
After Zachariah manipulated a fake voicemail message from Dean, saying that he didn't love Sam anymore and was planning on killing him, Sam decided to take Lilith down on his own in a possible suicide mission. Sam was able to defeat Lilith with his powers, but didn't realize that Ruby had lied to him and that Lilith was actually the final seal to unlock Lucifer's Cage. And as a result of his arrogance, Sam ended up being the one to release Lucifer from Hell and begin the apocalypse.
Sam felt extremely guilty over his role in freeing Lucifer throughout the majority of Season 5, and spent a large portion of his time trying to make amends. He also took responsibility in his part of starting the apocalypse. In Sam, Interrupted, Sam confessed that he always felt angry and he didn't know why; as well as the fact that he tended to blame other people for his anger, instead of accepting it as a personal flaw. In Swap Meat, when he temporarily switched bodies with a teenaged boy and was forced to lead said teenager's life, he told Dean that the boy's ordinary life "sucked", and seemed to decide to forgo normal life in favor of being a hunter. In Swan Song, Sam's desire to set things right finally culminated in him sacrificing himself to save the rest of the world, throwing himself into the Cage with Lucifer and Michael in order to protect his brother. It was thought that Sam would be trapped in the Cage forever, but the final show of season 5 reveals that Sam is not in the Cage at all, but on Earth, alive.
At the start of season 6 (one year later), Sam reveals himself to Dean, and they begin hunting again. However, something about Sam is strange; he lets Dean get turned into a vampire in order to find a nest. It is later revealed that, whilst his body and mind are not in the Cage, his soul is. During the time that Sam was soulless in Season 6, he lacked empathy and behaved like a sociopath. Without any emotions or sense of morality, he was often willing to overlook the deaths of civilians as collateral damage, which was an extreme departure from Sam's normal desire to help people and protect the innocent. Without his soul, Sam also felt nothing for any of his loved ones, telling Dean point blank that he didn't care about him, and he even tried to murder Bobby in an attempt to prevent his soul from being returned to his body. After his soul was replaced, Sam again felt great remorse for his actions and spent the rest of the season struggling to make up for what his soulless self had done.
In Season 7, after Castiel brought down the wall in Sam's head, Sam began to lose his sanity as a result of the damage done to his soul in Hell. He started to see hallucinations of Lucifer tormenting him, and had a hard time determining what was real and what was a flashback of his torture in the Cage. Dean managed to help Sam distinguish between the two, and Sam was able to block out the worst of the hallucinations. However, in Repo Man, Dean was captured by a serial killer and Sam became desperate enough to save his brother's life that he turned to Lucifer for help. He was able to save Dean, but the reliance on his hallucination meant that he could no longer turn them off, and his visions became so severe that Sam almost died due to fatal insomnia. Dean became determined to save his brother's life in The Born-Again Identity and, luckily, came across Castiel. Sam's mental stability returned when Castiel absorbed Sam's insanity into himself to atone for his actions.
After Dean and Castiel's disappearance in Survival of the Fittest, Sam spent a year thinking that his brother was dead (which he technically was). He "spiraled" out of control for a while, but eventually found some semblance of normality with Amelia. It was at this point that Sam started to re-imagine the possibilities of a normal life. After Dean's reappearance, Sam immediately returned to his side, but Dean was hurt when he found out that Sam hadn't looked for him while he was in Purgatory. Sam defended his choices of quitting hunting and grew jealous of Dean's close relationship with Benny, which led to a growing strain between the brothers. After bumping into Amelia once more, Sam realized that he wanted to stay by Dean's side and chose his brother over his ex-girlfriend. Sam became determined not to let Dean down again and took on the weight of the trials to prove himself. They took an extreme toll on his health, and as Sam got sicker, he became ever more defensive of Dean's attempts to mother him. He eventually got to the point where he was so ashamed of letting his brother down that he was willing to commit suicide in order to finish the trials. Dean managed to talk him back from the edge, but they weren't able to cure Sam before he succumbed to the effects.
Sam started Season 9 in a coma, dying from what the trials had done to his body. He remained somewhat suicidal, deciding to go with Death if he could promise that no one would be able to get hurt by bringing him back. But Dean managed to trick Sam into allowing the angel Gadreel to possess him, and for the first half of the season, Sam seemed to be in a much healthier place emotionally. However, once Sam found out that Dean had lied to him, he became furious. He told Dean they couldn't have a brotherly trust anymore and their relationship remained tense until the end of the season. Eventually, Sam's worries over Dean's reliance on the First Blade took precedence over Sam's anger, and when Dean attempted an apology, Sam forgave him. But they made up just in time for Sam to see his brother die in his arms, and Sam's grief at Dean's death propelled him to try and make another demon deal.
Following the release of The Darkness, Sam is at a complete loss on what to do. He decides to pray to God - something he has never done before - and asks for guidance. When struck by visions of the Cage and of his dead father, Sam becomes heavily determined to seek Lucifer out, against Dean's better judgement. He even goes to Hell without waiting for Dean to join him. Sam briefly expresses horror when Lucifer reveals that he was the origin of the visions, not God. Lucifer goes so far to point out that from the time they fought at Stull Cemetery, Sam has grown increasingly weak, citing his decision not to seek Dean out when the latter was trapped in Purgatory. Sam later admits to Dean that he agrees how he should have searched for him. Although despite his weakness, Sam is able to brush aside Lucifer's various lies and not say "yes", proving Sam to be smart and still brave enough to stand against the archangel.
As of Season 12, Sam is shown to be a strong and resilient person, able to withstand various torture methods imposed on him by Lady Toni Bevell. He is also more forgiving, as he accepts Mary's decision to take a break from her grown up sons. He continues to show compassion too, as he gives Magda Peterson support in learning to control her psychic powers which she formerly believed were bad, and again, when he tries to comfort Ellie Grant. Sam does not express any unhappiness or distress until he discovers Lucifer's new goal of killing humans out of contempt. He finds this situation bad and expresses low hopes of solving it. Throughout the season, Sam's ultimate goal seems to be fighting against his past fears, namely Lucifer, and in their latest confrontation, he bravely tells the archangel to "go to Hell". His constant mention of his past ties with Lucifer heavily imply that Sam wishes to be rid of the archangel once and for all, presumably considering his entire existence as a bane in his own life.  
Equipment
In Season 1, Sam owns a laptop, which he uses to gather information for hunts. In Season 2, he finds it in the wrecked Impala, busted. Sam soon replaces it but in Season 7 this other laptop is smashed by Frank Deveraux on the basis that it is not safe and the Leviathans may be tracking it, forcing Sam to once more replace it. For the first three episodes of Season 6 Sam owns a black Dodge Charger with the license plates I4Z 0892 which Sam has customized for hunting. It is destroyed in Castiel's fight with another angel in "The Third Man", something that Dean was pleased to see. In terms of laptops in Season 1, he owns what appears to be a Dell Inspiron 6000 laptop, which he uses to gather information for hunts. The first time Sam uses the laptop is in the second episode "Wendigo", where he plays a video message. In terms of cellphones in Season 1, Sam uses a Palm Treo cellphone. By season 2, Sam appears to own a Verizon-branded Motorola Q which has on at least one occasion (in "Hollywood Babylon") been used to visually track unseen ghosts. This phone however was destroyed in the third season episode "Fresh Blood." In the fourth season, namely "Sex and Violence", Sam is seen using the BlackBerry 8800. Sam has used the Blackberry Bold 9000, as first seen in the season 4 finale, "Lucifer Rising". Sam is seen using the HTC One in season 10.
Weaponry
It is a common misconception that Sam uses a chromed Beretta 92FS loaded with silver rounds. However, it has been officially stated by Christopher Cooper that it is a Taurus Model 99 (though it appears in most shots to be a Model 92, which is a bit thicker around the trigger guard than the Beretta) with mother-of-pearl grips. It is a standard 9mm with a 10-round magazine. When he was soulless, Sam utilized a Heckler & Koch Mark 23 Model 0. The boys do own a blue steel Beretta 92, but it is predominantly used by Dean in the series. Sam also uses a pistol grip 4-shelled 12 gauge shotgun loaded with rock salt. Sam often uses close range weapons while Dean seems to prefer the longer range weapons. Sam also uses Ruby's demon-killing knife, after taking it from her. During the latter seasons, both he and Dean start to employ angel blades, taken from dead angels when they turn against the Host of Heaven.
Powers and Abilities
Due to his training as a hunter by his father, Sam is skilled with firearms and melee weapons. Like Dean, he is skilled in criminal acts, such as lock picking, computer hacking, and car jacking. Both Winchester brothers are excellent shots, and are very skilled at both armed and unarmed combat. It is revealed that John started training the boys when they were quite young, as Sam, at 14 years old, manages to beat a boy twice his size to the ground without much effort. In the first two seasons he is often hesitant about using these skills because of his desire to be a 'normal' citizen, however this lessens over time. On two separate occasions, Dean has warned the powerful vampire Benny not to underestimate Sam, as he could and would kill him given the chance. He is proficient in hand-to-hand combat and possesses remarkable physical strength for a human, being able to hold his own and even overpower certain supernatural creatures such as certain types of monsters and lower-level demons. The most recent example being him overpowering a Hellhound and killing it single-handedly. His strength has limits, as he was also overpowered and badly beaten by a teenaged Djinn, however at that time he was weakened from the trials and not at full strength. He is also well-versed in weapons use, from blades to firearms and can kill any creature that is affected by this type of weaponry..
Sam has vast knowledge of the supernatural and is considered an "encyclopedia of weirdness" by Dean. Both of them have some knowledge of pop culture, as they frequently make references - such as Dean calling Sam "Dumbledork". He is skilled in reading, speaking and memorizes text and spells in foreign languages (usually Latin) and is often stuck with doing the research for their latest hunt. Having learned how to make hex bags from Ruby, Sam also possesses the ability to hide from demons. In season 5, Castiel carved sigils into Sam and Dean's ribcages, which hides them from angels. Sam is also quick to think on his feet; succeeding in preventing a demon from escaping his vessel by reciting an exorcism chant backwards. He is also shown to have an adequate knowledge of Spanish. Sam is perceptive to body language and can easily pick up on unconscious gestures to read their "poker face" - he is very good at poker. He is an expert tactician, able to fight or diplomatically steer his way out of many complicated situations, and generally prefers to use words instead of brute strength. He also has a great sense of direction and time, at one point being able to find a vampire's nest while blindfolded by keeping track of the time, the number of turns the car took and the sounds he heard during the journey. Also, soulless Sam was able to simply maneuver himself out of a knotted rope.
Sam has an in-depth knowledge on the workings of various law organizations (FBI, CDC, Police, etc.) enough to pose as one if the situation requires it. Sam is also the technology expert of the duo, as he's the one doing research and technology-based jobs.
Sam has also demonstrated that he possesses great willpower. Upon seeing something from his past in the Impala, he was able to use his memories to briefly overpower Lucifer's possession of him and regain control of his body. Even Death himself believed Sam was the only one who could overcome Lucifer, and even thought of it as an honor when he was going to reap him, and all this is saying something. He later replicated this feat with the less powerful Gadreel, though in that scenario he seemed to use his anger as well as his will.
One of his greatest traits is his physical and mental endurance. After his revival and having his soul restored, Sam managed to cope with the mental hallucinations caused by being tortured by Lucifer for several months - at one point staying awake for about four days straight - while remaining a functional hunter, before ultimately starting to cave in. The next year, when undertaking the trials to close the gates of Hell, despite the extreme physical damage and resulting weakness it caused him, Sam still managed to perform some respectable feats, such as knocking Dean unconscious with two punches. While being tortured by Ms. Watt, an expert torturer, Sam didn't break, stating that after being tortured by Lucifer, there's nothing they can do to break him. Ms. Watt was impressed and shocked by this, stating that no one could take the amount of pain Sam did and not break. He was also tortured mentally by Lady Toni Bevell and was not only able to see through it, but fake his reaction to it to trick her and attempt an escape.
Sam also expelled Gadreel from his body, but that is a skill all humans possess, as angels need a human's consent before occupying their bodies.
During Dream a Little Dream of Me, Sam temporarily gained the ability of Dream Walking through African Dream Root which allowed him to enter Dean's dreams and battle Jeremy Frost. Sam was able to shape the dream similar to Jeremy's ability to distract and kill him. Bobby suggested that his psychic abilities may have had something to do with this, but Sam didn't think so.
During the first half of Season 9, he had Superhuman Strength, Angelic Photokinesis and Accelerated Healing Abilities, due to the presence of Gadreel inside his body. However, Gadreel had to take control in order to use his Angelic powers. This was seen when the Shaman cut Sam's throat, Gadreel instantly took control & regenerated the damaged tissue within a few seconds, before handing Sam back his bodily control. Even without Gadreel in control, Sam's extensively damaged physiology was able to operate at peak efficiency. Vesta managed to scan Sam's body and pointed out that his body cannot possibly be alive, as it is nothing but "ducktape and safety pins inside". This was due to Gadreel's presence inside him, slowly healing the damage done to his body as well as healing himself.
When the shapeshifter was fighting Sam in "Skin," it was luminously obvious that he was trying when fighting him, even though he had super strength. After taking a semi rough beating from Jake in "All Hell Breaks Loose - Part 1," Sam was able to kick him around with just one foot, and also later into the fight, with just one arm. When two ghouls tore into him in "Jump the Shark," Sam lost a ton of blood but he was able to retain consciousness and it didn't do any permanent damage. Sam was able to outwit a nine-hundred year old witch in poker in "The Curious Case of Dean Winchester," when Dean and even Bobby couldn't. In "...And Then There Were None," Sam spotted a tripwire when Rufus, Bobby and Dean didn't see it.
Abilities granted by spells
Sam has displayed the following powerful abilities through magic:
Dream Walking - Through the use of African Dream Root, Sam gains the ability to enter the dreams of others. He is able to manipulate the dreamscape he is within which Bobby Singer suggests may be due to his own psychic abilities, but not necessarily as Jeremy Frost showed an even greater level of control without being psychic.
Astral Projection - With the help of a spell cast by psychic Pamela Barnes, Sam was able to astral project. He later astral projected with the help of witch James Frampton.

Invisibility - While astral projecting, Sam was invisible to those around him though high-level demons such as Alastair could see him.
Super Strength - While astral projecting for the first time and having been turned into a ghost as a result, Sam had greater than normal strength after learning how to use his ghostly powers.
Telekinesis - As a ghost through astral projection, Sam was telekinetic but required Dean's aid to muster the strength to drop a chandelier from the celling.
Teleportation - While a ghost through astral projection, Sam could teleport.

Summoning and Banishing - Through various rituals, Sam has been able to summon demons, angels and pagan gods. He is also moderately proficient at banishing, occasionally banishing angels and once banishing malevolent fairies. He is not as proficient as Dean at banishing however.
Supernatural Concealment - Sam is able to conceal himself and his brother from demonic detection through hex bags he creates.
Warding - Over time, Sam has become proficient at warding locations from threats such as demons and angels.
Molecular Combustion - Through the witch-killing spell, Sam can cause witches to combust as Spencer Wallis did when Sam and Dean used the spell upon him.
Soul Absorption - Using a ritual, Sam has been able to store a soul in his arm.
Resurrection - Sam intended to use a ritual to resurrect Benny Lafitte but was prevented when Benny stayed behind in Purgatory.
Hell Gates Closing - By completing the Trials of God, Sam would've been able to close the Gates of Hell had he not stopped at the last minute.
Demon Curing - Using the Demon Curing Ritual, Sam has been able to cure one demon and nearly another one before he stopped.
Unplottable Place Accessing - Using a spell from the Men of Letters files, Sam was able to access Cuthbert Sinclair's magically hidden mansion.
Ground Consecration - Sam is able to use a ritual to consecrate ground.
Ward Breaking (attempted) - Using the Cabirian Invocation, Sam attempted to break the deadly wards protecting the Werther Box. However, due to Suzie's interruption, the spell fizzled out and Sam's attempt failed.
Demon Killing - Using a spell provided to him by Rowena, Sam was capable of killing lower-level demons, but couldn't kill Crowley who was the spell's intended target and was able to overcome it.
Sigil Magic - Sam has proven proficient at using sigil magic to his advantage, such as killing a Soul Eater and severely weakening Lucifer.
Spell Adaptation - Sam has shown the ability to adapt spells to his benefit such as when he adapted the witch-killing spell into bullets which are also highly effective on witches.
Monster Curing - Sam has shown slight talent in curing monsters that can be reverted to humans. Using the cure developed by the Campbell Family, Sam has been able to cure vampires who have not yet fully turned. He was also able to create a cure for the Rabid infection.
Chronokinesis - Using the Blood Sigil as modified by Rowena MacLeod, Sam was able to return Gavin MacLeod to 1723.
Colt Bullet Creation - Using a ritual taught to him by Bobby Singer, Sam can create bullets for the legendary Colt which is capable of killing all but five beings in existence.
Blood Purification - Using a ritual, Sam was able to purify his, Dean and Lady Toni Bevell's blood to the point that it was essentially "revirginized."
Special Child Abilities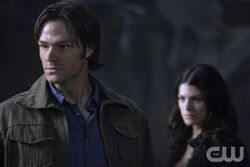 As a result of being fed demon blood as a baby by Azazel and thus being branded as one of the Special Children, Sam has exhibited over the course of the series various supernatural powers and an immunity to demon powers and diseases. Initially his powers were weak and fluctuating due his inexperience and later hesitation of using said powers. At the start of the fourth season, Sam has begun drinking demon blood under Ruby's tutelage in order to become stronger, eventually manifesting the ability to exorcise demons with his mind. By consuming ever greater amounts of demon blood (which became an addiction to him), his powers continued to grow to the point where he could exorcise and destroy white-eyed demons such as Alastair and ultimately Lilith. In Lucifer Rising, it is revealed that Sam only needed to drink Demon Blood as a child, therefore his body naturally has these abilities. The reason Sam was fed and compelled to feed on demon blood, was to strengthen his physiology and prepare him as the perfect vessel for Lucifer. However, even though he naturally has supernatural powers, the demon blood does give them a temporary increase in his power's potency. When having consumed several gallons of demon blood, Sam destroyed Lucifer's demon bodyguards with a minor thought. Sam would lose his powers and craving for the blood on two occasions: first when Lucifer was released and God took him and Dean away from Lucifer and cleared Sam from the blood, the second, when he was resurrected and released from Lucifer's Cage. Sam's powers included: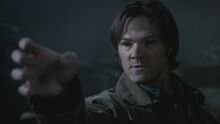 Precognition - Sam possessed the power to see into the future and even have visions of people in danger.
Clairsentience - Initially, Sam's powers manifested solely as a form of heightened senses allowing him to sense the presence of supernatural. Sam is able to sense supernatural presences in the old Winchester family home and was able to sense Dean's spirit during a time of great stress.
Telekinesis - When under extreme situations, Sam displayed minor feats of telekinesis. His power grew considerably the more demon blood he consumed to the point where he could throw around and restrain top-level demons such as Alastair and Lilith by using his mind with the wave of a hand.
Super strength - The demon blood also increased Sam's physical strength, allowing him to overpower low-level demons and humans, including his brother Dean.
Immunity - Sam was completely immune to a variety of demonic powers and of those of other Special Children. Even before he started to consume demon blood, he was unaffected by Andrew Gallagher and Ansem Weems' Mind Control powers, the Croatoan Virus, and Lilith and Samhain's White Light. Although Lilith was initially able to use telekinesis to incapacitate Sam, he became immune to her powers (including her telekinesis) after she tried to kill him with White Light. As he continued to drink demon blood, he even became immune to other demons' powers, such as Alastair's telekinesis. However, after he stopped drinking demon blood, he lost his immunity to other demons' powers.
Exorcism - Under Ruby's tutelage, Sam learned how to use his powers to exorcise demons with his mind. Initially he had extreme difficulty with controlling and maintaining this power due to his initial hesitation of drinking demon blood. Though he was able to exorcise Samhain with a minimal consumption of demon blood, he was unable to do more than make Alastair choke and later on had no effect whatsoever on Lilith. However once he committed himself to drink the blood and destroy Lilith, his powers grew to the point where he could exorcise virtually any demon.
Demon Detection - Under severe craving for demon blood due to Famine's power, Sam could detect demons within a short proximity[9].
Demon Torture - Sam also was able to cause demons extreme levels of pain which he used to torture them for information. He was so skilled at this ability that Alastair (who had a very strong will and withstood hours of torture from Dean and the angels) broke within seconds and another demon begged for death.
Demon Destruction - After drinking more blood than usual from Ruby and having been honing his powers for months, Sam was able to kill a demon as powerful as Alastair. By drinking an even larger amount of blood from both Ruby and another demon, Sam managed to kill the firstborn demon, Lilith, though it still required extreme concentration and difficulty and left him greatly drained of his stamina. When preparing to say "yes" to Lucifer, Sam drank several gallons of demon blood, which allowed him to kill Lucifer's demon bodyguards with minimal mental effort and without moving.
Deaths
Throughout the course of the series, Sam has died multiple times. He has died as many times as Dean, excluding "Mystery Spot". His resurrection seems to have been the catalyst for Sam's increasingly cold nature and it has been insinuated by Azazel that when he was resurrected, he did not come back "100% pure Sam".
Sam was struck by lightning and briefly died in "Wishful Thinking" when Hope wished him dead. However, this was quickly reversed.
During the episode "The Song Remains the Same", Sam was killed by Anna to prevent him saying yes to Lucifer. Michael brought him back, however.
Both Sam and Dean were killed in the episode, "Dark Side of the Moon" by two angry hunters for starting the apocalypse, but were resurrected by Joshua.
In the Season 12 episode First Blood, Sam and Dean make a deal with the Reaper Billie where she temporarily kills them by stopping their hearts then brings them back later to give them a chance to escape Site 94. In return, the Winchesters agree that a Winchester will die permanently at midnight. Before this part of the deal can be carried out, Billie is killed by Castiel.
Relationships
Name
Samuel (sometimes spelled Samual) is a male given name of Hebrew origin meaning either "name of God" or "God has heard".
Sam was named after his and Dean's maternal grandfather, Samuel Campbell.
He only allows those closest to him, such as Dean and John, to call him "Sammy", as Gordon Walker learned the hard way in "Bloodlust". However Lucifer, Azazel, Crowley, Ruby, and Meg also called him Sammy a few times.
Sam once mentioned that he didn't like being called "Samuel" either, not even by Dean.
Quotes
"So get this..."
"Wow. I must be the star of this thing."
"Dean, did you service Oberon, King of the Fairies?"
"Sam: So, now ah, what's the deal with all this TV crap?"
"Dean: Yeah, amen Padaleski."
"Sam: Padalecki."
"Dean: What?
"Sam: -Lecki, I'm pretty sure."
"Dean: Seriously. Why? Why would anybody want to watch our lives?'
"Sam: Well, according to the interviewer, not very many people do."
"Dean: They're after me!"
"Sam: Third kind, already? You better run, man. I think the fourth kind is the butt thing."
'Why shack up with a family? Is it a kinky thing? Do you like to play with your food? Roll over, Lucky. Speak."
"Lucky: Go to hell."
"Sam: Already been. Didn't agree with me."
"Ever since I came back, I am a better hunter then I've ever been! Nothing scares me anymore, because I can't feel it."
"You've got a whole Dr. Huxtable vibe coming off you. You're like... father material."
"Why? Because Crowley said so? Because we trust him now? Like I trusted Ruby? Or like I trusted Brady back at school?"
"No drinking, no gambling, no pre-marital sex. Dean, they basically just outlawed 90% of your personality."
"Unleash the Kraken. See you tomorrow morning."
"Oh, hey, Chuck, look. If you really want to publish more books, I guess that's okay with us."
"Chuck: Wow. Really?"
"Sam: No, not really. We have guns and we will find you."
(to Gabriel) "So which one are you? Grumpy, Sleepy, or Douchy?"
"It's like Mission: Pathetic."
"Dude, you just got whaled on by Paris Hilton."
 "Umm... Becky, can you... quit touching me?"
"You don't know me. You never did, and you never will."
(about Adam) "He's a Winchester. He's already cursed."
"You got something against magic?"
"It's not food anymore, Dean, it's Darwinism!"
"We don't have time for any of your blah blah blah blah..."
"I lost my shoe."
"I win. So I win."
"Dude, you're not going to poke her with a stick."
"Be my brother again, cause, just cause."
"Jerk"
"He is...he's...he's stealing candy."
"Dean, what do you think you're doing?!"
"I'm here for you, you brave little soldier."
"Too precious for this world."
"Dean: "Can I shoot her?"
"Sam: "Not in Public."
"Wait, there's no such things as unicorns?"
"Dude, I'm not using this ID. Because it says 'Bikini Inspector' on it."
"And you know what? After we kill it, we can go to Disneyland!"
"You're bossy, and short"
"Yesterday was Tuesday right? But today is Tuesday too!"
"What kind of house doesn't have salt? Low sodium FREAKS."
"Sammy is a chubby 12 year old, It's Sam, ok?"
"Boop"
"You peed yourself"
"You confusing reality with porn again"
"It doesnt matter who you are, it only matters what you do"
"You're Jensen Ackles and I'm something called a Jared Padalecki"
"It was how many time I let you down"
"I have Genital Herpes"
"I'm doing all I can to slightly lessen the spread.. of.. of genital herpes"
"It was night and now its day"
"if there's a key, there has to be a lock"
"and that's a good thing?"
"Dude, when have I ever forgotten the pie?"
"Get out of me"
"I've got demon blood in me, Dean"
"Dean!"
"DEAN!"
"No. No you don't. You don't get to quit in this family. This family is all we've ever had."
"We're the guys that save the world."
Trivia
Sam has killed one major antagonist; Lilith at the end of season 4. He's also killed three secondary antagonists; Jake Talley, Gordon Walker and Alastair. In season 5 Sam defeated main antagonist Lucifer and secondary antagonist Michael by sending them to Hell. In season 12 he took part in defeating the British Men of Letters. 
Soulless Sam served as the secondary antagonist of season 6. 
Sam's birthday is May 2nd, which means his zodiac sign is Taurus.
Sam's aliases include Agent Hamill, Robert Singer, Mr. Berkowitz, Detective McCreedy, Father Frehley, Dr. Jerry Kaplan, Deputy Marshal Frank Beard, Detective Dante, Police Chief Phil Jones, Agent Page, Detective Bachman, and Special Agent Gabriel.
Sam's character was influenced by Luke Skywalker of Star Wars.
According to Eric Kripke, Sam was originally the main protagonist of the series and the story was centered around him.
Sam suffers from coulrophobia, the fear of clowns. 
Sam had a magician phase, mentioned in Criss Angel Is A Douchebag.
Sam displayed more powers in Supernatural The Animation. In "Rising Son", it's shown that he made a stag-like monster implode when he was 7 years old. In Part 1 of "All Hell Breaks Loose" he knocks an on-rushing Jake back with some kind of energy and in Part 2 uses it to sever Jake's arm. He then beats Jake to death, possibly with super strength.
Sam is one of three characters shown to have been possessed by both an angel and a demon, the other being his father. However, unlike John, Sam has been possessed by an angel and a demon at the same time. The third is Castiel.
Many of the characters Sam is romantically or sexually connected to end up either dying, being revealed as a supernatural being, or both; exceptions include (to the best of our knowledge) Lori Sorensen (Hook Man), Dr. Cara Roberts (Sex and Violence), Lindsey (Free to Be You and Me), and Amelia Richardson (Season 8). Dean referenced this trend in-show in the episodes Sex and Violence and Season 7, Time For A Wedding. Sam himself brings it up in Rock and a Hard Place, saying that most of his relationships don't end well while at a chastity group with Dean whole-heartedly agreeing.

Sam's deceased lovers include Jessica Moore, Madison, Sarah Blake, Ruby, Amy Pond and Annie Hawkins.
Sam's other lovers who did not die include Sparrow Jennings, Lana, Becky Rosen and Piper.

Sam is the only Winchester to not have successfully made a deal with a demon, as both Mary and John made deals with Azazel whereas Dean made a deal with a female Crossroads Demon.
Sam, like several other members of 'Team Free Will', has been to Hell, Purgatory, Heaven and Limbo.
Sam has twice been able to seize control of his body after being possessed by an angel. His father and Bobby Singer had previously managed to seize back control from demons, but for shorter periods of time than Sam and against foes much weaker than Lucifer or Gadreel.
Sam is the only being on the show to be possessed by five different beings: Meg, Lucifer, Gadreel, The Wicked Witch and Crowley.
Despite being briefly possessed by him, Crowley never actually did anything to control Sam's body, a first for someone being possessed.
Soulless Sam was similar to the concept of a philosophical zombie, a creature in a thought experiment that has no soul/mind/internal experience but acts exactly as if it does, e.g. exactly like a person.
When Sam had no soul, he used a different gun than that of the normal Sam uses. This was seen prominently when Soulless Sam and normal Sam confronted each other: each used the gun they preferred to use while in control of Sam's body.
Sam has attempted the Demon Curing Ritual twice and used it successfully once: to cure his own brother.
Even though he's had a stronger connection to demons, Sam is the only Winchester to become possessed by an angel twice. Once by the archangel Lucifer and second time by Gadreel.
In Mother's Little Helper, while Dean was able to single-handedly fight and kill three demons while hunting the First Blade, Sam struggles to defeat a single minor demon on his own, relying on a recorded exorcism when unarmed while Dean fought the demons hand-to-hand until he retrieved his weapon. However, Sam was shown able to knock down Jervis in Our Little World.
Sam's music preference seems to veer towards '80s hair metal, given that he is a fan of Bon Jovi and Vince Vincente. This is in contrast with Dean and John's classic hard rock and heavy metal tastes.
See Also
References
Ad blocker interference detected!
Wikia is a free-to-use site that makes money from advertising. We have a modified experience for viewers using ad blockers

Wikia is not accessible if you've made further modifications. Remove the custom ad blocker rule(s) and the page will load as expected.