Early Life
Edit
Samuel "Sam" Winchester was born on May 2, 1983, to John and Mary Winchester in Lawrence, Kansas. He is the couple's second child, four years younger than his older brother Dean. When Sam was exactly six months old, on November 2, 1983, his mother, Mary, was killed in his nursery by the Yellow-Eyed demon, Azazel. Mary walked into Sam's nursery while Azazel was feeding the infant demon blood attempting to turn him into one of the special children. He has developed slight mental trauma due to this day and doesn't like Halloween.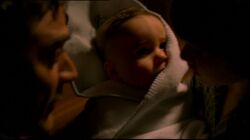 Infant Sam is saved from the ensuing fire when his father takes him out of his crib and gives him to a four year old Dean, who then carries him outside. John unsuccessfully tries to rescue Mary and becomes somewhat emotionally unstable. 
Sam and Dean spent their childhood moving from town to town while their father hunted the supernatural being that had killed their mother. He trains his sons in Hunting and kills anything supernatural he comes across. As soon as able, Sam was left in the care of Dean. However, when Dean grew old enough to go on hunts with John, Sam was left alone.
Sometime in the late 1980s, John was hunting a Shtriga in Fort Douglas, Wisconsin and left Sam and Dean alone in a hotel room. While watching a TV show as Sam slept, Dean got bored and went out. But when he came back, he found the Shtriga feeding on Sam. John arrived quickly, providing the suspicion that he used his children as bait.
Until he turned 8 years old, Sam believed his mother had died in a car accident and his father was a traveling salesman. When he found his father's journal, he demanded that Dean explain. Dean confirmed the existence of the paranormal. When Sam was nine years old, Sam created an imaginary friend named Sully, who unknown to him was a Zanna sent to guide him. Sully was there for Sam when he wasn't allowed on hunts. He attempted to encourage Sam to run away and live his own life, but when John changed his mind and permitted Sam to accompany him and Dean, Sam rejected Sully as a fake, causing his imaginary friend to leave. When Sam was eleven he spent his Thanksgiving with another family. He remembers it fondly as it was (according to Sam) his first actual Thanksgiving; for the other Thanksgivings he and Dean would have a bucket of extra crispy chicken while their dad would pass out on a couch. Sam loved this memory so much that it actually appeared on his road to Heaven, which shows only the happiest and most loved memories of a person's life. Sam started hunting alongside his brother and father around the age of twelve. However, he began to crave a normal life without monsters when a teacher of his, unaware of the whole story, encouraged him to seek alternatives to "the family business." On the 4th of July 1996 Sam and Dean snuck out to a field with fireworks where, according to Dean, they had burned the field down - this is one of Dean's Heaven-Road memories, and, as they share a heaven, also one of Sam's.
Dean frequently left Sam at Plucky Pennywhistle's Magical Menagerie before going to hang out with girls, which is possibly a cause for Sam's fear of clowns. When Sam was about 15, John and Dean left Sam alone to hunt a kitsune while Sam compiled the research for them so they could kill it properly.[1] This is where he met Amy, who, unbeknownst to Sam, was the daughter of the kitsune that John and Dean were hunting. Sam eventually learned his friend was a kitsune but decided to let her go when she had killed her own mother to save his life. Later on, Dean killed her, betraying Sam's wishes and request for him to leave her alone.
At some point Sam ran away to Flagstaff, Arizona while Dean was watching him. He stayed there for 2 weeks and while he was there he took in a dog and called it Bones. Sam eventually went to Stanford University, but was unable to return to his family, as John had forbade him from returning. While there, he had a long-term relationship with Jess. A year after that, their father got closer in looking for the thing that killed their mom, and left Dean to hunt solo. A few years later, John went missing, so Dean fetched Sam from Stanford and they both go looking for him. This is when the series starts.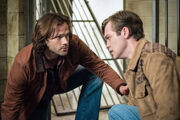 In Lost & Found, alongside Jack, who sees Castiel as his father instead of Lucifer, the Winchesters burn Castiel and Kelly Kline's bodies outside the cabin.
During Patience, Sam tries to help Jack in mastering his powers by telling him to move pencil with his mind but the latter struggles and is frustrated that he can't do one good thing. He later learns that Jack was successful in moving the pencil and the latter tells Sam of Dean's promise to kill him if he's evil as Sam promises to ensure that won't happen. When Dean returns, Sam mentions learning of the death of Missouri Moseley and confronts on his treatment to Jack. This results in an argument, where Sam defends Jack and shows that he doesn't put Castiel's death on Jack's hands. Though it is clear, he does miss his friend.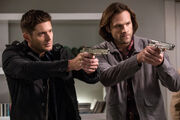 In The Big Empty, Sam and Dean investigate a case where dead people come back and attack their loved ones with Sam suggesting bringing Jack with them. They go undercover as a trio of brothers and meet Mia Vallens, a therapist who helping people overcome the pain of losing a loved one. They tell her that they have issues of their mother, it is here confront the other on their mother's fate and argue about it. Angry, Sam stepped out but found evidence that Mia is a shapeshifter and returns telling Dean about it. They hold her at gunpoint, aware they are hunters she states she has an alibi and ask them to confirm it. Dean quickly goes to do so, leaving Sam with Mia before he returns and confirms it, to Sam's surprise. They soon learn that Mia is honestly trying to help people and it is Mia's former lover Buddy, another shapeshifter who is doing the killing. Sam goes through her surveillance cameras to see which one of her patients is the shifter, due to shifters' eyes flaring on camera. He asks Mia about her sessions and how patients react to which she stated they don't mind as they get out their pain. Sam soon finds the shifter and leaves in Mia's car to pursue them. Sam calls Dean and announces he's coming back as his brother states he'll be waiting. Sam returns unaware that Buddy disguised himself as Dean and tied everyone up and is planning to kill them. Sam is lured upstairs as Buddy readies to shoot him, as Mia tries to stop Buddy but is pushed aside though Jack uses his power to cause the bullet to ricochet into the wall. This saves and allows Sam to shoot Buddy, killing him. Afterwards, Mia apologizes for the trouble she has caused and promised to do something about Buddy.
At the bunker, Dean goes to talk to Sam and apologizes for his behavior while Sam nearly agrees with him about their mother but Dean tells him to maintain for both of them as Sam was surprised by this.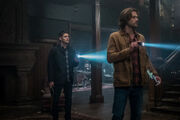 During Advanced Thanatology, Sam is worried for Dean's depression and tries to do things to get him out of it by taking him to his favorite places and getting him food but Dean sees through his acts. Dean sees through it and tells him to stop as they investigate a case involving ghosts. Dean temporarily kills himself to talk to the ghosts, after the time is up Sam tries to bring him back but when Dean doesn't resuscitate and pleads to his brother to wake up. Eventually, Dean awakes and they call the authorities to inform them of the bodies being found. Sam questions Dean on his slow awakening and when Dean tries to avoid the topic, Sam calls him on it as the latter explains. Sam is shocked to learn that Billie was not only resurrected but has become the new Death who brought Dean back because he and Sam have work. Dean then tells Sam that he needs a win after letting a list of people down before they leave the area. On the drive, Sam is sleeping as Dean gets a call and Sam wakes up questioning his brother who is shocked. The brothers drove to a small town where they find Castiel standing by a payphone and are shocked to see him alive again.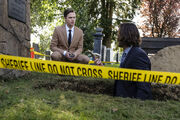 During Tombstone, the brothers question how Castiel can be alive as he explains that he was resurrected by the Cosmic Entity. Happy to have him back, Sam hugs him before he asked if Castiel was sent to Heaven but the latter tells them that he was put in The Empty where angels and demons go after death. Sam asks about it as Castiel describes his horrible experience in the void of nothingness. Sam asked if God had a role in his resurrection but is told he has no power there as Sam deduced that Jack had a part in bringing Castiel back.
They return to the bunker, where they show Jack the resurrected Castiel and learned it was Jack's pleading that Castiel returned. Jack pointed out a hunter's case, with Sam being skeptical though he is surprised at Dean happily accepting it.
At a motel in Dodge City, Sam noticed Dean's upbeat nature which he explains is due to getting Cass back, the win that he wanted as Sam is content his brother is moving pass his sadness.
Sam and Jack meet with the mortician Athena Lopez who doesn't know anything regarding the case and sends them off. The two then investigate the cemetery where they discover tunnels through graves and Sam finds remains and sees that it is a supernatural creature. They return to Cass and Dean and showed them the evidence. Cass showed suspicion towards Athena's position and possible connection with the grave robbing's, which Sam agrees with although this was quickly dismissed by Dean since she would have full access to the bodies and would not need to dig them back up. Jack soon gets a video of the stolen truck being driven by an outlaw who Dean recognizes as a dead outlaw and realized its a Ghoul. Jack soon deduced the ghoul's identity as the mortician's boyfriend from a picture he had seen there.
After tracking the Ghoul to a bank which he was robbing, a gunfight breaks out. In an attempt to stop it, Jack unleashes a telekinetic blast that throws the Ghoul and a security guard back. The security guard hits his head on a pole and dies while Dave gets away. Jack is grief-stricken at his accidental casualty as Dean tells Sam and Cass to take him to the bunker as he goes after the ghoul.
On the way back to the bunker, Sam and Cass try to console Jack but the latter angrily tells them to stop.

Once Dean returns to the bunker, he explains he took care of the case and had the ghoul take the fall of the guard's death as Jack has an outburst regarding the dead man and is scared that he will hurt the others saying the they are all he has and he can't hurt them. The group attempt to console him as they all made mistakes like him in the past but Jack can't accept this and decides to leave. They try to stop him but Jack throws them back saying he is sorry and teleports out of the bunker.
In War of the Worlds, Sam and Dean continue their search for Jack to no avail. There are no signs of any Nephilim activity which Dean is skeptical about since Jack could cause a tsunami with a hiccup. Castiel is concerned that this means Jack has been taken to Hell by Asmodeus or to Heaven by the Angels and he has arranged a meeting with another angel to inquire about Jack and tells Sam and Dean they cannot accompany him. Later on, Dean tells Sam he has found a case where witches are being killed and suggests that they work a case as their search for Jack is proving fruitless. While investigating, they find footage of the witch killer who looks like Arthur Ketch which shocks them.
The brothers questioned how he's alive before they are approached by a witch named Daniela who requests their help. They question why they should as she brings up them helping people in need and explains she escaped from the Ketch lookalike and shows them the scars from his torture of her and that he is looking for Rowena MacLeod. Using Daniela as bait, the Winchesters lure Ketch to a witch safe house and knock him out with a dart.
Sam and Dean take him to the bunker where Dean takes delight in beating up Ketch in retaliation for what he did to his mother. The man claims that he is really Arthur Ketch's twin brother Alexander who fled the British Men of Letters after refusing to complete initiation. He works as a freelance mercenary hunting Supernatural creatures. Dean doesn't buy it even when Sam brings up documented proof of his claim.
Sam soon allowed Ketch to walk around (albeit in chains), much to Dean's annoyance. Sam is told by Dean that he thinks something happened with Cass and the two leave Ketch but re-chain him up.
They arrive at a bar, where they discover evidence of a fight and wondered what happened to Cass. The two are then attacked by demons until they are saved by Alexander who used a lockpick in his mouth to escape and drove after them on a motorbike in the garage. Dean points a gun at him and states he knows that despite Alexander's claims he knows that he is really Arthur. Arthur admits his identity and explains that the British Men of Letters captured Rowena a few years ago and discovered the spell she had sewn into herself that revived her. In exchange for her escape, she did the same for Arthur but the spell needs recharging so he is seeking her out. Dean says that Lucifer killed Rowena, something Ketch is skeptical of, and raises his gun. Ketch throws something that causes a burst of light and escapes but not before Dean shoots him in the shoulder.
On the way back, Sam watches as Dean calls Castiel who tells him that he didn't have a signal but he has found a lead on Jack and is following it.
During The Bad Place, Sam and Dean continue to track down Jack before they get an alert from Jody who tells them she has lead in their search by telling them a man named Derek Swan had met Jack but he is dead. This causes them to believe Jack had killed the man, Sam was hesitant to believe it as Dean had to tell him to consider it while stating he liked Jack but he had gotten out of hand before.
The two met Derek's girlfriend who told them that Derek was a Dreamwalkers as Sam spoke to her, Dean found a portrait of a world that resembled the one that Lucifer was sealed in. They come to the conclusion, Jack is trying to link with his father and bring him back to their world. After finding Jack with a girl named Kaia Nieves, they learn that he didn't kill Derek and that he disappeared to master his powers to see other worlds, to prove that he is good. Jack then reveals to the brothers that their mother is still alive, which surprises Dean before Jack shows them the world Mary was trapped in and how she was suffering. Sam was visibly shocked and somewhat relieved to see that his mother was really alive but worried for her well being. They soon learn Kaia is a more powerful Dreamwalker which was why Jack was with her but she refused to help.
On the way, Dean apologized to Sam for doubting his beliefs and they agree to get their mother back no matter what happened. Sam and Dean talk to Jack and apologize for thinking he killed someone as they thought he was looking for Lucifer. When Jack says that he only views them and Castiel as his family, Sam smiles as Dean firmly agrees with this statement and compliments him on finding their mother.
They are then alerted after Jack hears angels talking and reveal they have Kaia. Dean holds one of Kaia's Abductors hostage and watches as Jack refuses to join the angels before a fight breaks out. It ends with Jack saving dean from angel as the latter go resolve to find his mother was so extreme he held a Kaia at gunpoint and was willing to let the angels go extinct when they tried to take Jack.
In Wayward Sisters,

During Breakdown, Sam falls into a depression which Dean notices as Sam states its because they've now lost Jack as well as their mother. They are soon contacted by Donna Hanscum who asks them to help her find her missing niece Wendy Hanscum and they agree to help. While checking out the last place she was seen, they meet FBI agent Terrance Clegg, who was investigating a connection to a serial killer. His presences causes Sam worry as he is real law and the law are still looking for him and Dean but the latter shrugs it off.
As they investigate a series of suspects, they soon get info from Marlon, a clerk at the station Wendy was at and are led to a building where they meet with Clegg who believes he could find the killer there. When the two were alone, Terrance knocked out Sam and brought him to The Harvester' lair. Here, he revealed his true nature to Sam and told his reason for doing all this.
Terrance proceeded with his business by using Sam for the auction, as he knew the monsters would revel in the chance to finish the legendary hunter. Bids for Sam were very high, with the latter being shocked as it ended with an offer of five hundred thousand for his heart. Terrance taunted Sam for hoping Dean would come and prepared to kill him. Fortunately, before all went too late, Dean showed up and killed Terrance with a fatal shot to his heart.
Various & Sundry Villains, Sam is in the bunker when Dean returns stating he is in love this confuses Sam but he gets worried after his brother plans to give her the Black Grimoire. Sam tries to stop him thinking it was a love spell like the one Becky Rosen put on him but Dean knocks him out with a punch and leaves. Sam catches up but Dean is still insisted on giving the book and nearly kills Sam. However, Rowena suddenly reappears to break the love spell cast on Dean by Jamie Plum and they are shocked to see her.

In Devil's Bargain, Sam and Dean are told by Castiel that he was captured by Asmodeus and the latter had his phone to speak to Dean to monitor them. Castiel soon tells them that Lucifer has returned due to that world's Kevin Tran using his grace to open a rift, which surprises Sam since they have an angel tablet. However, Castiel tells them another problem is coming which is Michael who wants to invade and conquer their world. They decide to make a plan before asking about Mary and Castiel reveals she's alive but knows very little of her well-being.
Summoning Donatello Redfield, the group plan to have him read a spell on an angel tablet that could open a rift to the other world so they could locate their mother and Jack before Michael harms them.
References
Edit