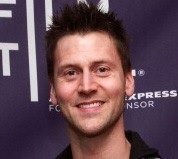 Sean Rogerson is a Canadian actor known for his work on TV's Bitten, Harper's Island, Arrow, Smallville, and Sanctuary, as well as for appearances in the films Grave Encounters and Underworld: Evolution.
In Supernatural he portrayed Ranger Rick Evans in Season 7's episode "How To Win Friends And Influence Monsters."
He also appeared in Houses of the Holy in Season 2 as the Male Attacker.
External links
Edit
Ad blocker interference detected!
Wikia is a free-to-use site that makes money from advertising. We have a modified experience for viewers using ad blockers

Wikia is not accessible if you've made further modifications. Remove the custom ad blocker rule(s) and the page will load as expected.