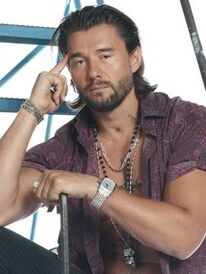 Steve Bacic (b. March 13, 1965) is a Canadian actor of Croatian origin.
He is known for playing the character Telemachus Rhade on the Sci-Fi series Gene Roddenberry's Andromeda. After being a guest star in season 1-3, he joined the cast early in season four. In total, he was in 44 of the 110 Andromeda episodes
His television roles have included appearances on Street Justice, The Outer Limits, Highlander, Stargate SG-1, Smallville and The X-Files where he played a SWAT officer who douses himself with gasoline in a memorable episode. His film appearances include The 6th Day, Threshold, X2 and the Hallmark Channelfilm The Colt, and most recently, Deck the Halls, Safe Harbor and She Made Them Do It on Lifetime.
On Supernatural, he portrayed the fictional character Doctor Sexy in the season 5 episode Changing Channels. He also makes an appearance in the season's gag reel.
Ad blocker interference detected!
Wikia is a free-to-use site that makes money from advertising. We have a modified experience for viewers using ad blockers

Wikia is not accessible if you've made further modifications. Remove the custom ad blocker rule(s) and the page will load as expected.