Super Strength
Talk

3
1,786pages on
this wiki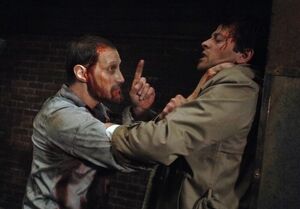 Super Strength is the ability of physical strength superior to that of the average adult human.
Individuals with this ability
Edit
Doc Benton - Doc Benton was able to punch through a car window, and lift Dean up like a feather.
Eve - Being the mother of all monsters, Eve's strength was far superior to humans and every Earthly supernatural creature. She was cocky enough to claim that she would take care of the demon Crowley if she was to find him. She was more powerful than even seraphs. Humans were no threat to her in terms of bodily force.
Jake Talley - Jake was able to lift a turn over military trucks, bench an enormous amount of weight, and could send people flying with his punches.
Sam Winchester - Only when Sam was on demon blood did he display this ability, using it on Dean at least once.
Nephilim - Although only half-angel and half-human, Nephilim are stronger than humans and bear enough strength to toss low-level angels around. One was able to throw around a wounded Seraphim, Castiel.
War - War showed immense strength by breaking a bridge.
Whore of Babylon - Being a creature of Babylon, she exhibits incredible strength when fighting off Sam and Dean.
Todd (temporarily) - He made a wish at the Wishing Well at Lucky Chin's. After the spell of the coin was broken, super strength disappeared.
Races with this ability
Edit
Angelic beings

Archangels - Amongst the strongest celestial creatures in existance, Archangels are even much stronger than lower angels, seraphs, demons, pagan deities, monsters, spirits and humans.
Seraphs - As a higher species of celestial beings, Seraphs are much stronger than lesser angels, demons, monsters, spirits and humans.
Angels - Although the most common celestials, Angels are stronger than lower to middle-tier demons, monsters, spirits and humans.

Demon-like beings
Other
Alphas - Significantly stronger than their children, as the first and most powerful member of their species.