Supernatural: The Complete Eighth Season
 contains all 23 episodes from 
Season 8
 of 
Supernatural
, as well as a number of special features. It was released to DVD and Blu-ray Disc on September 10th, 2013.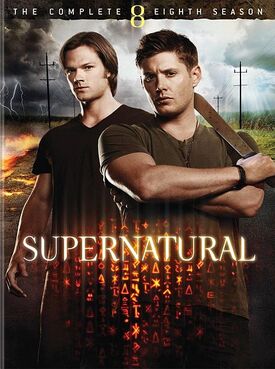 After a year apart, the Winchester brothers reunite after Dean (Ackles) escapes from Purgatory with the help of a vampire named Benny (Olsson). Dean heads straight for Sam (Padalecki), but the reunion isn't exactly everything he imagined it would be. Although Sam drops everything to join his brother, leaving the life he had grown accustomed to turns out to be harder than he imagined. In the meantime, Benny's help turns out to be more than what Dean bargained for. As the brothers struggle with their return to hunting, they make a shocking discovery that could lead them on a deeply personal mission to settle old scores.
Bonus Features
Edit
Ad blocker interference detected!
Wikia is a free-to-use site that makes money from advertising. We have a modified experience for viewers using ad blockers

Wikia is not accessible if you've made further modifications. Remove the custom ad blocker rule(s) and the page will load as expected.