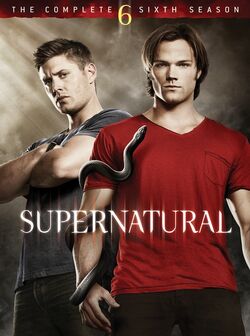 The Supernatural: The Complete Sixth Season contains all 22 episodes from Season 6 of Supernatural, as well as a number of special features. It was released to DVD and Blu-ray on September 13, 2011.
Season 5's finale left Dean alone, as Sam descended into Hell. Now a different man, Dean vows to stop hunting and devote himself to building a family with Lisa and her son Ben. Then, mysteriously, Sam reappears, drawing Dean back into hunting. But all is not as it seems Sam is different. A soul-shaking discovery proves Dean's suspicions this is Sam - but not all of him. How the Winchesters confront this greatest challenge yet to their powerful bond is the troubled heart – and soul – of the profound and thrilling 5-Disc, 22-Episode Season 6. As the brothers struggle to reunite, they must also battle deadly supernatural forces: demons, angels, vampires, shapeshifters, and a terrifying new foe called the Mother of All.
Disc breakdown
Edit
Bonus features
Edit
Ad blocker interference detected!
Wikia is a free-to-use site that makes money from advertising. We have a modified experience for viewers using ad blockers

Wikia is not accessible if you've made further modifications. Remove the custom ad blocker rule(s) and the page will load as expected.