Welcome to Supernatural Wikia!
"
I killed my Lucifer, tore him apart in the skies over Abilene. But hey, you can't get enough of a good thing.
"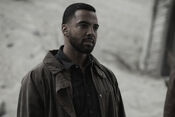 Michael is an archangel that exists in the apocalyptic world of the alternate universe. He is described as the "victor" and "the Genghis Khan" of that world, having conquered it. He is an alternate reality version of Michael. He encountered Lucifer from the main universe and after defeating him, he captured and made plans to invade his world but Lucifer escaped back to his world and made a few aware of this threat.
Read more...
What was the most surprising thing happened so far?
What is behind Gabriel's mysterious resurrection?