Supernatural
Talk

272
1,890pages on
this wiki
Featured article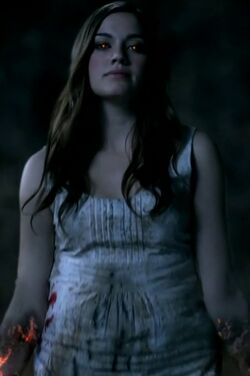 "Your father made you and then abandoned you, so you pray. You see signs where there's nothing. But truth is, your Apocalypse came and went, and you didn't even notice. A mother would never abandon her children like he did. You'll see.""
—Eve to Rick.
Eve was a mysterious and powerful malevolent entity who was neither demon nor angel and somehow associated with the Leviathans. She was cast into the deepest bowels of Purgatory, until she was released by dragons, arrived on Earth, using a young virgin girl as a vessel. She was part of existence before angels were, which gave her an advantage over them, being able to inhibit them from using their supernatural powers. Read more...
See also
Recurring Supernatural creatures
Featured Poll
Which high-class demon would you like the most to become the new big bad someday or at least play an important part?