Welcome to Supernatural Wikia!
"
You know, when you were a kid, I'd come home from a hunt, and after what I'd seen, I'd be, I'd be wrecked. And you, you'd come up to me and you, you'd put your hand on my shoulder and you'd look me in the eye and you'd... You'd say "It's okay, Dad". [...] You shouldn't have had to say that to me, I should have been saying that to you. You know, I put, I put too much on your shoulders, I made you grow up too fast. You took care of Sammy, you took care of me. You did that, and you didn't complain, not once. I just want you to know that I am so proud of you.
"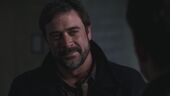 John Edward Winchester (1954-2006) was the son of Henry and Millie Winchester, the husband of Mary Winchester, and the father of Dean and Sam Winchester and Adam Milligan. Seeking revenge after his wife was killed by the demon Azazel, John became a hunter and raised his two oldest sons to fight the supernatural. When Dean was 26 and Sam was about to get his law education started, John mysteriously disappeared, which caused his sons to go back into hunting in order to find him.
Read more...
How was the season finale?
Which character's death was the saddest?
What is your wish for Season 14?