Welcome to Supernatural Wikia!
"
Believe me, I was hands-on -- real hands-on for, wow, ages. I was so sure if I kept stepping in, teaching, punishing, that these beautiful creatures that I created... would grow up. But it only stayed the same. And I saw that I needed to step away, and let my baby find its way.
"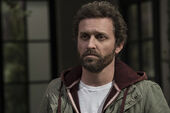 God, initially known to Sam and Dean as Chuck Shurley, is a powerful primordial being who created the universe and nearly everything it contains, including the human soul. Amara, his older sister, is the only entity surpassing his power, with the Horseman Death, prior to his demise, being comparable to him in power. Read more...
How do you feel about the death of Asmodeus?
Now that the all Princes of Hell are dead, what kind of creatures would you like to see in the future?