Welcome to Supernatural Wikia!
"
Something happened to me, Castiel. I lost hope. I tried - I killed myself. I slit my wrists. I died. And then... he saved me. He brought me back to life. His power, his soul surged through me, and it was good. Pure. I know he is good.
"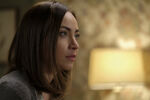 Kelly Kline was the secret girlfriend and secretary of Jefferson Rooney, the President of the United States, before becoming the mother of Jack, Lucifer's child.
Read more...
How was the season finale?
Which character's death was the saddest?
What is your wish for Season 14?